USBG-232MM Product Description
Also available from the following online retailers:
Use your Laptop or Desktop computer's USB technology to synchronize your new serial device or device currently using a serial port with this USB to RS-232 Serial Adapter. This USBG-232MM serial adapter adds a serial port to the computer, laptop, or tablet PC via a hot plug compatible USB connector. Using an existing USB Port the adapter can be utilized to work with your legacy serial connections. It's great for newer Laptop and PC technologies with no serial port connections.
The combination of RS-232 Serial Adapter communication protocol with USB technology allows further use of existing devices, even when your computer may not offer serial ports currently. The high-speed RS-232 serial port with 128 byte FIFO allows for high-speed communication, even in heavily loaded systems. This serial adapter also allows unusual speed settings of up to 500.000bps. The USBG-232MM USB to RS-232 Serial Adapter also features TxD and RxD LEDs that are located on the DB-9 Male end of the cable. (pictured below)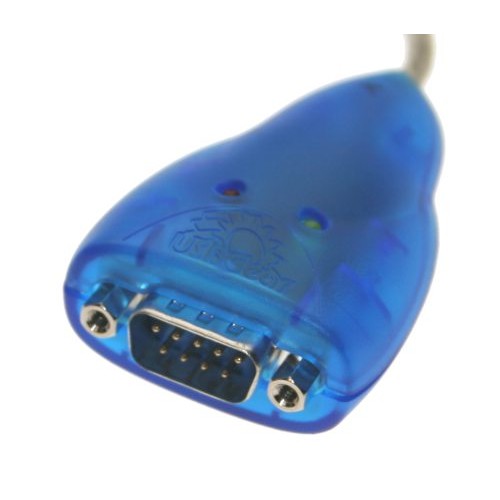 Additional Features:
Adds one RS-232 serial port by connecting to a USB port.
Compact size cable type converter with cable length of 6 feet.
Installed as standard Windows COM port
Full RS-232 modem control signals and hardware/software flow control
RS-232 data signals: TxD, RxD, RTS, CTS, DSR, DTR, DCD, RI, GND
High speed serial port with the baud rate up to 921.6K bps
Non-standard baudrates supported
LED status indicators for TxD and RxD for easy port monitoring and diagnostic
Serial port protected with surge protection of 10KV
Powered by USB port, no external power adapter required
Easy plug and play installation and RS-232 device connection
COM port number assigned can be changed to any COM port number required
Works with USB 1.1 & 2.0 host port
OS Support:
Windows 98, Me, XP, 2000, 2003, CE, Vista, Windows 7, 8, and Windows 10
Linux and Mac OS 10.X
USBG-232MINI Compatibility LIST
GPS / Chartplotters / Fish Finders:
Magellan Sportrak GPS
Garmin GPS III Plus
Garmin eTrex Legend
Garmin 76S GPS
Garmin Rino 120
Garmin Etrex
Garmin GPS V
Peets weather station
Sky Caddie
SkyCaddie SG2 Golf GPS
Humminbird 767
Megellan MAP330
WEATHER STATION:
Oregon Scientific WMR-968
La Crosse WS-3610
Davis Vantage Pro II weather station
AMATEUR RADIO:
Yaseu FT-950 Amateur Radio
Kenwood TM-D710 ham radio
TenTec RX320 shortwave radio receiver
Kenwood TM-D710 dual band Amateur radio
Routers:     (Connects to Cisco Console cable)
Cisco 871
Cisco 2900/3900 XL
Cisco ASA5505
Cisco 678 DSL
Cisco 2621XM
MODEMS:
US Robotics Courier dual standard V.34
Zoom 56k external fax modem
Embroidery Machines:
Bernina 180 embroidery machine
OBDII Data Analyers:
Innova 3140 / 3160 OBD2
Equus 3130 Innova Diagnostic Code Scanner
Autel MaxiDAS
Telescopes / Solar Controllers:
TS-60 Morningstar Solar Controller
Celestron 5SE Telescope
Celestron CGEM astronomy tracking mount
POLICE SCANNER RADIO:
Uniden BCD396XT programmable radio
Uniden 780XLT scanner
Uniden Bearcat BC346XT scanner
CNC Machines:
PlusDeck
Suunto X6HR watch
Altec Digitizer Tablet
Data Logging Digital Multi-meter
Conext uninterrupted power supply
Automation System SLC 500
Keile Micro Controller
SEL-751A relays (needs null modem adapter & acselerator software )
URC remote controls MX-850
Summa Graphics D15 vinyl cutter
AUDIO DEVICES:
Anthem MRX 300 A/V receiver
Anthem MRX 500 receiver
NuVo music system
INDUSTRIAL EQUIPMENT:
Brother wire EDM machine
Graphtec plotter
MegaSquirt car tuning
SBC ALIX Firewall
Lynx6 AL5B robot arm (Karmic RC) Matlab 2009b
Pelouze scale
DVDO iScan Duo
Stenograph Writers:
Stentura 200SRT
Stentura 400SRT
Stentura 500
Stentura 6000
Stentura 6000LX
Stentura 8000
Stentura 8000LX
WAVE
DIAMANTE
APRS unit (Byonics RTG)
iRobot Create
FreeScale Codewarrior
Technological Arts Adapt9S12C32 MCU
X10 CM11A
Crestron programmer
Zebra Label Printers