USB-2COMi-M Product Description
The combination of USB and Serial technology allows more versatility in the use of RS422, and RS485 serial devices to further the expansion of existing networks, even when the computer doesn't offer serial ports. The USB to Dual Serial Hi-Speed adapter with the 128 byte FIFO allows communication, even in heavily loaded systems.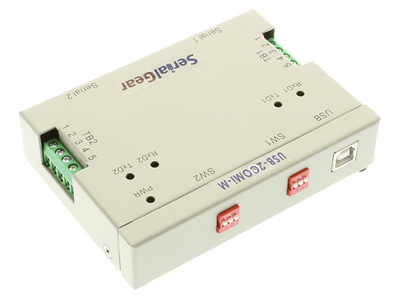 The USB-2COMi-M USB to Dual Serial provides two DB9 male connectors & two 6-pin terminal block connectors (pictured above) for optimal flexibility of serial connection. The USB-2COMi-M also allows mode control with its 2-pin DIP Switches (not shown), the unique features help to reduce the system load. The serial port also allows unusual speed settings like 500.000bps.
Additional Features:
No need to open chassis to set operation modes-two external DIP switches for easy RS-422, RS-485 mode settings
Installed as standard Windows COM port
SECC metal chassis with DIN rail bracket
RS-422 data signals: TxD-, TxD+, RxD+, RxD-, GND, RTS-, RTS+, CTS+, CTS-
RS-485 4-wire data signals: TxD-, TxD+, RxD+, RxD-
RS-485 2-wire data signals: Data-, Data+
Automatic transmit and receive control for 2-wire RS-485 half-duplex mode
Built-in termination and biasing
High speed serial port with the baud rate up to 921.6K bps
Non-standard baudrates supported
LEDs of Power, TxD and RxD for easy port monitoring and diagnostics
Powered by USB port, no external power adapter required
Easy plug and play installation and RS-422/RS-485 device connection
COM port number assigned can be changed to any COM port number required
Works with USB 1.1 & 2.0 host port
OS Support
Windows XP, Vista, Windows 7, Windows 8, and 10
Linux and Mac OS 10.X