The CGX10PS is a 10-Port Tablet Charging and Sync Station that is uniquely designed in a thick, durable, plastic shell with LED indicators for charged (green), charging in progress (amber), Sync in process (red), over current protection (red flashing). The 10-Port Tablet Charging and Sync Station can charge iPads or Android tablets to a maximum size of 10 inches with a Bay/Port capacity for up to 10 tablets. It will charge all tablets that use USB for charging up to a 10″ max size!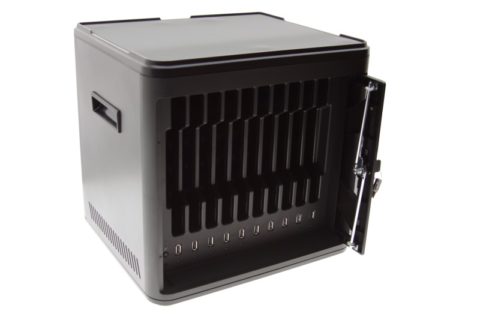 The CGX10PS can be incorporated into a daisy chain configuration from one master Mac, PC or mobile Laptop using a USB cable Type "A" (computer) to Type "B" (charging station) on each station USB connection on the back panel. The 10-Port charging station units can be wall mounted to either a wood or concrete wall structure and includes a Bracket Buckle for table top mounting.
Special Note:
LED indicators may have abnormal display if the connector cable is damaged or incorrect specification.
Remove the Device and turn off the AC power for over current reset.
10-Port Tablet Charging and Sync Station Features:
Holds 10 iPads or Android tablets up to 10 inches in size
Environmentally safe Unique, durable plastic design
Sync button for syncing function
LED status indicators for charging and sync
Unit fan for air flow
Ventilation holes for air circulation
Wall and table mount options
Individual charging stations can be daisy chained
Sync with ITunes and update iOS versions
Uses USB 2.0 for USB connection
Hidden Bracket Buckle and Wall-Mounting options (Wall-mounting kit only
applies on wood structure wall and concrete wall)
OS Support:
Windows 2000, XP, Vista, 7, 8, 10 supporting USB 2.0
Linux and Mac OS supporting USB 2.0
Tablet Charging Support:
10″ Apple iPad
10″ Android Tablet
Samsung 10″ Tablets