This USB 3 Hub is Designed with twelve type "A" downstream ports for connecting USB peripherals, devices, or other USB 3 hubs. A single type "B" upstream port connects to the host computer or another USB hub, enabling up to 127 devices to be connected by cascading multiple hubs.
The USBG-12U3ML all metal chassis provides a rugged and durable construction that can withstand operating conditions in both the Automotive and Marine industries. The hub can be wall-mounted or installed onto a DIN-Rail for convenient access to the port connections.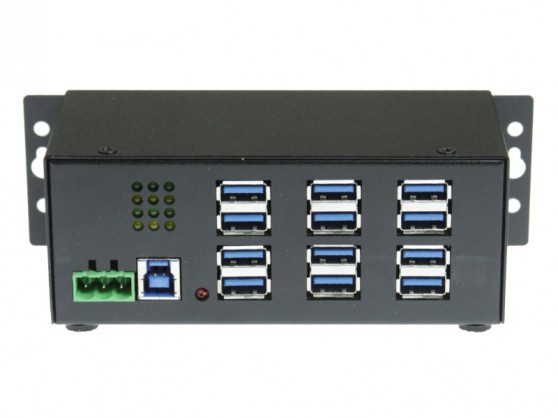 The USBG-12U3ML USB 3 hub can be powered with a three wire terminal block connector (7-24V)  with AC Adapter Required, the AC adapter is sold separately for peripherals requiring more power consumption (pictured below). It is backward compatible with USB 2.0 and 1.1. It provides an out of the box industry standard that allows connection of up to 12 USB peripherals or devices to your USB ready PC or Mac. External power supplies are sold separately for the USBG-12U3ML Hub.
The USBG-12U3ML buffers USB data from any attached peripheral in compliance with USB specifications to provide an invisible extension of the USB bus. Supporting both low speed (1.5Mbps and 12Mbps), Hi-Speed (480Mbps), & Super-Speed (5,000 Mbps) devices.
Additional Features:
LEDs provide port status for each port and power status.
Compliant with USB Specification Revision 3.0
Backwards compatible with USB Specification Revisions 2.0 & 1.1
Supports High-speed and or Full-speed Packet
Protocol Sequencer for Endpoint 0/1
Provides 12 Downstream Facing USB 3.0 Ports
Supports 5,000Mbps, 480Mbps, 12Mbps and 1.5Mbps Speed
Multi Transaction Translator per Hub and Supports 12 Concurrent Non-periodic Transactions
Supports Self-powered Mode
Supports Downstream Port Status with LED
High-speed or Full-speed Packet Protocol Sequencer for Endpoint 0/1
Product Dimensions: 5.132in(L) (6.132in w/flange) x 2.608in(W) x 2.104in(H)
Device Support:
Supports Downstream Port Status with LED USB Devices Supports keyboard, mouse, monitor, scanner, printer, PC Camera, telephone, CD-ROM drive, joystick, virtual reality helmet, modem, PBX and many more USB devices I/O Hardware
Supports 12 external USB 3.0 Type-A connectors and 1 Type-B Upstream connector.
Supports a 3-pin Terminal Block Connector for external power input from AC adapter
Includes USB 3.0 Cable
Power Supply for this Hub IS NOT included and must be purchased separately.
OS Support:
Windows Windows 7, and Windows 8, 10
Linux and Mac OS 10.X
Environmental:
Operating Temp.: 0 to 55C (32 to 131 F)
Storage Temp: -20C to 85C (-4 to 185 F)
Operating Humidity: 5 to 95% RH