The SG-PCI2S422485OCT 2 Port PCI card is compatible with both new and legacy RS422 / 485 devices via its Breakout Cable from the PCI card interface. It is very easily installed and ready to use with its plug-and-play feature. When in use with the Breakout Cable, It provides the scalability to quickly adapt to new serial technologies. Our complete product line of RS422 / 485 PCI cards offer many choices in helping you to expand and grow your network with your requirements.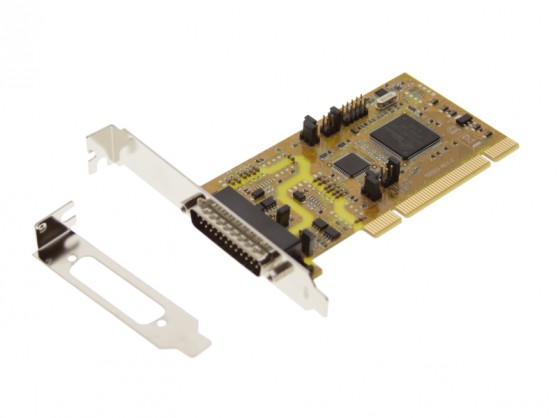 With the 2 Port PCI Plug-and-Play feature and drivers, simply follow the instructions of Install Wizard, there is no configuration of the I/O address, IRQ jumpers, DMA or others when you are connecting the devices.  The system will recognize the device and install the drivers automatically. The SG-PCI2S422485OCT 2 Port PCI RS422 / 485 with Breakout Cable is an ideal solution for your expanding applications.
Features:
Two 16C950 UART Serial Ports over PCI Slot
Compliant to PCI Specification 3.0, 133MB/s
Supports RS-485 Auto Transceiver Turn Around by Unique Featured ATTATM Hardware
Supports Low Profile Form Factor with Short Bracket
Two DB9-male Connectors over Octopus Cable
4-wire RS-422/485 and 2-wire RS-485 applications
RS-422/485 speed up to 921.6Kpbs
Optional DB9 to 5-pin Terminal Block Adapters
Supports Win98, Me, NT, XP, Win2000, 2003, 2008, Vista, Win7 and Linux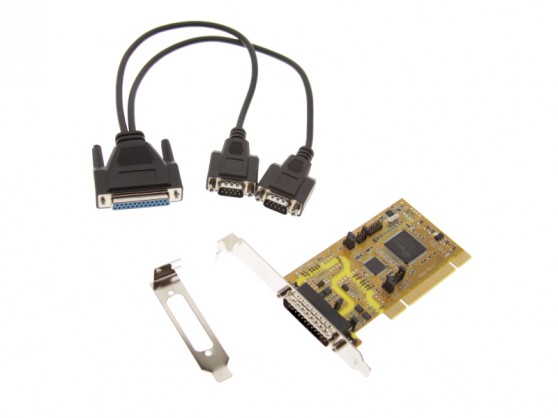 Additional Features & Specifications:
System
For 32-bit 33/66MHZ PCI Bus Systems
PCI Interface
Fully PCI Bus Specification 3.0 compliant
 Serial Ports
Two DB9-male RS-422/485 Connectors, the key benefits are:
Connector: 2 DB9 Male Connectors
Interface: 3 modes are selectable: 4-wire RS-422 (TXD+/-, RxD+/-). 4-wire RS-485 (TxD+/-, RxD+/-). 2-wire RS-485 (Data+/-)
Parity: None, Even, Odd
Data bits: 5,67,8,9 bits Data Frames
Speed: up to 921.6Kbps
Terminator: 120 OHM, can be Enabled/Disabled by Jumpers
ATTATM: Auto RS-485 Transmitter buffer direction control by the ATTATM Hardware. Guarantee Fast Turn Around the Transceiver.
I/O Hardware
Two DB9-male Connectors over DB25 Octopus Cable
Supports Low Profile PCI Form Factor with Short Bracket
OS Support
Windows 95/98, Me, NT, XP, 2000, 2003, 2008, Visa, Win 7 and Linux
Environmental Specifications
Operating Temperature: 0 to 55°C (32 to 131°F), 10% to 90% relative humidity (non-condensing)
Storage Temperature: -40 to 75°C (-40 to 167°F), 5% to 95% relative humidity (non-condensing)
Form Factor
4.72" x 2.51" (12.00cm x 6.40cm)