Product Description
Also available from the following online retailers:
The 765289 USB to DB25 RS-232 Communication Adapter is designed to make serial port expansion fast and easy. Connecting to a host USB port on your computer or USB hub, the USB to DB25 Serial Adapter instantly adds a RS-232 serial communication port to your system using Plug-and-Play utilities and hot plug features and is automatically detected and installed. it is installed as a standard Windows COM port with full RS-232 modem control signals, RS-232 data signals; TxD, RxD, RTS, CTS, DSR, DTR, DCD, RI, GND.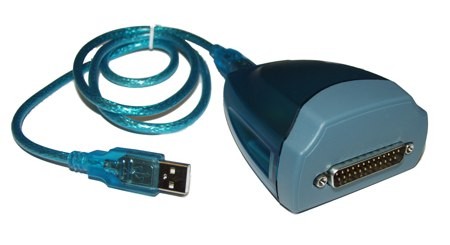 The USB to DB25 RS-232 Serial Adapter provides instant connectivity with modems, ISDN TAs, PDS, handheld & pocket PCs, digital cameras, POS, serial printers, etc. and is suitable for remote access, retail and industrial applications.  Other applications that require a High-speed and or LOW serial communications port such as data collection are ideal with this device adapter.
Additional Features:
Converts a USB port into a 25-pin male RS-232 serial port
Rugged plastic housing with built-in LED status indicators for TxD and RxD
Installed as standard Windows COM port
Full RS-232 modem control signals and hardware/software flow control
RS-232 data signals: TxD, RxD, RTS, CTS, DSR, DTR, DCD, RI, GND
High speed serial port with the baud rate up to 921.6K bps
Non-standard baudrates supported
Serial port protected with surge protection of 10KV
Powered by USB port, no external power adapter required
Easy plug and play installation and RS-232 device connection
COM port number assigned can be changed to any COM port number required
Works with USB 1.1 & 2.0 host port
OS Support:
Windows XP, Vista, Windows 7, and Windows 8
Linux and Mac OS 10.X