Bookmark this page! We will be adding our Newest products for USB Type-C Power Delivery and more here, Check Back Often.
DC to USB-PD Adapter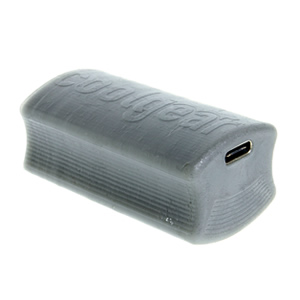 An innovative technology designed to Expand Capabilities of Current Power over Ethernet (E-PoE) Standard to support low voltage DC output USB type C Power Delivery Devices. Leading the way in commercial and industrial USB-C PD designs, Coolgear has developed a sleek, micro form factor USB-C PD device with the broadest compatibility profile possible. The CG-DCPD21W tested against iPhone 8, Pixel and Pixel 2, Google Wifi, Nestcam, iPad Pro 12.9", Samsung S8, Eero Pro, and many others to confirm full compatibility in the AT-USBC-Kit and the POE-USBC-Kit.

Compliant with USB Power Delivery 2.0 and Type-C
Support Type-C output and USB PD protocol
Support 5V, 9V, 12V, 15V, 20V PD output
Support BC1.2, Apple, Samsung
Support Qualcomm QC2.0, QC3.0 (Certificate No.: 4787930010-2)
Support MTK PE+1.1 and MTK PE+2.0
Support Huawei Fast charge: FCP and SCP
Support Samsung fast charge : AFC
Support Spreadtrum fast charge : SFCP
Read the full press release here

---
4 Port Power Delivery Hub with 2 Type C PD Ports and 3 USB 3.1 Type A Port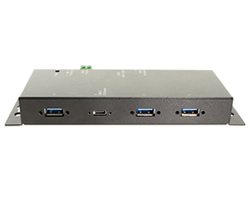 Model Number: CG-UC31PD4H –  USB PD (power delivery) is making its way into the USB device markets. With the ability to power laptops and other devices through various power delivery protocols, you'll soon need this type of peripheral for your new equipment. Solving the problem of limited PD with USB, products with protocols such as 20V/14.5V/12V/5V can be used with this 4 Port Hub. In addition to power delivery, our new 4 port power the two USB-C and USB-A ports are compliant with USB 3.1 Gen1 speeds, this means you'll work with data speeds up to 5Gbps, 10 times the speed of USB 2.0. Among its convenient features, the 4 port power delivery hub is surface mountable, under the table, on a wall, or on a desktop, the hubs stability is excellent! So are its screw lock compatible connections.
Applications: Laptop charging, Super-Speed data transmission.
Product URL: https://www.coolgear.com/product/usb-c-4-port-hub-wpower-delivery-15kv-esd-surge-protection-usb-3-1-gen1
---
USB-C to USB-B Power Delivery USB 3.1 Adapter w/Mounting Kit
Model Number: CG-UCUSBPDB – USB Type-C Power delivery adapters are being designed to make sure our legacy devices aren't forgotten. This Gen1 USB 3.1 USB-C PD adapter can accommodate power protocols of 20V/5A, 14.5V/2A, 12V/3A and 5V/3A to legacy USB-B host devices. With delivered power of up to 100 watts at 20 volts, large USB devices such as laptops and monitors can be powered by this USB-C adapter. As with all USB Type-C connections, the plug itself is reversible maintaining its function regardless of how it is plugged in. The USB-C Power Delivery adapter supports up to 5Gbps data transfer as per USB 3.1 Gen1 specifications and is screw lock compatible for secure, tight cable connections. The USB-C PD adapter supports DIN Rail mounting and a USB Type-C downstream connection to the device while maintaining its Type-B host connection from the computer.
Applications: Laptop power, Monitor power, Super-Speed Data Transfer
Product URL: https://www.coolgear.com/product/usb-c-usb-b-power-delivery-adapter-wmounting-kit