The USBG-7U3ML-PS is an Industrial USB 3.0 7-Port Hub that complies with the Universal Serial Bus 3.0 (USB 3.0) Specifications Revision 1.0 and is capable of up to 5Gbps. It supports voltage of +12V to 24V DC output and provides 7 downstream facing ports with standard Type-A USB 3.0 connectors. The USBG-7U3ML-PS USB 3.0 7-Port Industrial Hub also supports screw lock features for both upstream (USB type B) and downstream (USB type A) connectors with the screw lock USB cables, which prevent accidental disconnection.
With built-in single chip USB 3.0 controller, the USB 3.0 7-Port Hub  is backward compatible either when any one of downstream port is connected to an USB 1.1 or USB 2.0 compliant device, or when the upstream port is connected to a USB 1.1 or USB 3.0 compliant host.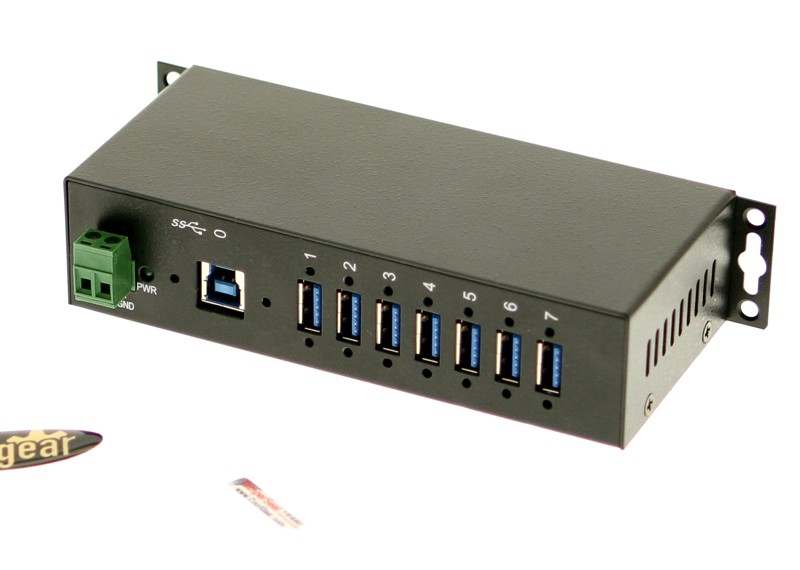 The USBG-7U3ML-PS Industrial USB 3.0 7-Port metal, mountable hub can be bus-powered but also includes an AC power adapter for power hungry devices and applications when needed.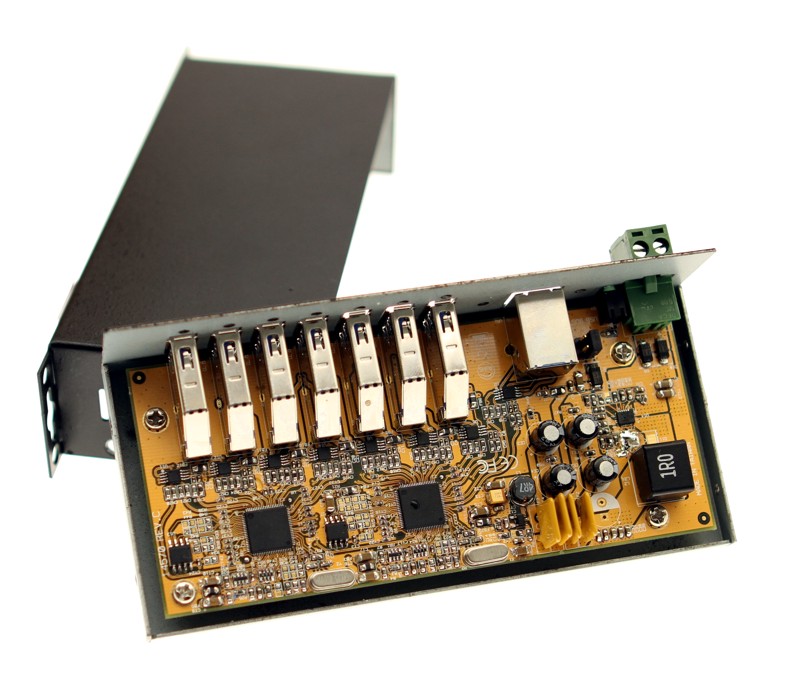 Additional Features:
System:
For Systems with USB 3.0, USB 2.0 or USB 1.1 Ports
USB 3.0 ports
Provides 7 USB 3.0 downstream ports which managing up to 5Gbps:
Compliant with USB 3.0 Specifications Revision 1.0
Voltage is +12V to 24V DC output
Provides 7 Downstream Facing Ports for Super-speed, High-speed, Full-speed and Low-speed traffic
1 Upstream Port for Super-speed, High-speed and Full-speed traffic
Supports 5Gbps, 480Mbps, 12Mbps and 1.5Mbps Speed
Supports USB Screw-lock Mechanism for Secure Cable Connection
Supports Self-powered and Bus-powered Mode
Supports up to 900mA USB Bus Power for Each Down-stream Port
Dimensions: 5.66″(L)x2.60″(W)x1.42″(H) (16.20×6.60×3.61 cm)(Length with ears 6.44″
Hub Weight: .775 lbs.
Supports Downstream Port Status with LED
Supports Battery Charging Protocol Rev 1.2
USB Devices:
Supports keyboard, mouse, monitor, scanner, printer, PC Camera, telephone, CD-ROM drive, Pen-drives, SATA enclosures, joystick, virtual reality helmet, modem, PBX and many more
 OS Support:
Windows 98, Me, XP, 2000, 2003, CE, Vista, Windows 7, and Windows 8
Linux and Mac OS 10.X
I/O Hardware:
Supports 7 external USB 3.0 Type-A connectors and 1 Type-B Upstream connector, supports screw lock features with screw lock type cables
Supports 1 DC Jack and 1 2-pin Terminal Blocks for external power input
NOTE: CABLES NOT INCLUDED, please see our cable category for Screw Lock USB Cables
External Power supply is included:
Environmental Specifications:
Operating Temp: 0 to 55°C (32 to 131°F)
Operating Humidity: 5 to 95% RH
Package Contents
USB 3.0 7 Port Hub
Din Rail Clips and screws
6ft USB 3.0 A to B screw lock cable
Paper installation guide
12V 7A Power Supply