When it comes to choosing the right USB Hub for your industrial install, a number of important questions must be asked to find the best fit. Various characteristics including USB speed, ports, power, mounting methods, and protection are all important in pairing your specific needs with the perfect hub.
What environment will the hub be subject to? Which peripherals are planned to be connected? Where will the power source be located? How will it be mounted?  For the best results, these all come into question.
Industries
Looking at these characteristics on an Industry-specific level, a few of these choices can be narrowed down.
AUTOMOTIVE
USB hubs serve as a bridge between the digital brain and the analog nervous system of a car's electronics. In this case, hubs would need to connect directly to the vehicle's battery with a variable voltage input.
COMMERCIAL
USB hubs for the commercial industry must keep kiosks and POS stations operational with an ultra-low defect rate. They must be ready for any application with flexible voltage inputs, ESD Surge Protection, and a wide operating temperature range
LABS
USB hubs must be built rugged for everyday use, suited for your medical, engineering, bio, R&D, chemistry, physics, and optics labs with secure mounting methods for easy asset tracking. Port orientation is important in providing easy access to the connected peripherals.
INDUSTRIAL & ROBOTICS
USB hubs in factories and robotics must be built to handle harsh environments with a wide operating temperature range, rugged metal chassis, and ESD surge protection. 
USB Speed
Depending on the use case and connected peripherals, the data transfer speed of the USB hub's ports come into play. Newer standards bring more speed, power and versatility along with a complex assortment of features and capabilities to consider when deciding which speed is right for your application.
Choosing a USB speed should be based on the peripherals you plan to connect. The hub's data-transfer rate is limited by the slowest of the connected devices. As an example, a USB 3.2 Gen 1 5Gbps device plugged into a USB 2.0 hub or cable will be limited to USB 2.0's 480Mbps speed. In the opposite case, a USB 3.2 Gen 1 or above USB hub would be overkill if the connected peripherals abide by the USB 2.0 specification. Some newer devices may not function properly or function at all at USB 2.0/1.1 speeds. For example, USB Solid State Drives may operate extremely slow or may not even read in the first place.
Below is a chart of USB specifications and their accompanying transfer speeds.
Data Transmission Speed Chart

Number of Ports
Choosing a hub based on the number of planned peripherals to be connected is a simple way to hone in on the right choice. For example, a keyboard, mouse, external hard drive, and printer are all planned to be connected, then a 4-port hub would make for the right choice. 
One specific factor does affect the number of ports that may be chosen. Semiconductor chips developed and used to build USB hubs often support 1 upstream port to connect to the host, and 4 downstream ports for use with peripherals. To create a hub with a higher port count, an additional 4 ports are cascaded off of a single downstream port of the original 4. This architecture creates a 7-port hub. Creating an additional 4 ports will take a second downstream port of the original 4. This architecture creates a 10-port hub.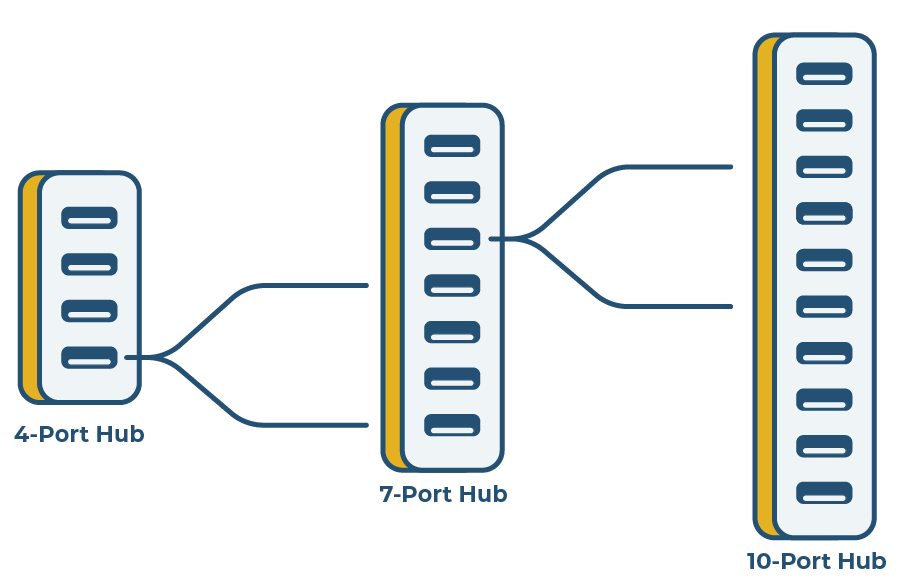 This method of cascading ports means that most off-the-shelf USB hub solutions do not support port counts such as 5, 8, 9, 11, etc. If required, Coolgear and their Labs division can design hubs with specific port counts to meet the exact needs of a custom install.
The power draw of certain devices can also affect the hub choice. Just because a hub has 7 ports does not mean that it can properly power every type of its 7 devices. Some devices will require more power per port than the standard 900mA offered by USB 3.0 and 500mA offered by USB 2.0. In some instances, connected peripherals may not even function if not given the proper power. For cases like this, a compatible power adapter for the hub may be required.
Although highly negligible, a small phantom power draw can be seen in unused USB ports (i.e. if 3 peripherals are connected to a 4-port hub). If this slight power draw proves to be crucial in operations, a USB hub with port managing software may find use. Unused USB ports may be set to "off" in order to close off the power draw.
USB Port Types
Downstream ports often feature the most prominent USB type, Type-A. In some cases, USB Type-C ports are also present. Multiple Coolgear hubs even feature a mix of both. Upstream ports are often USB Type-B, although Type-C is an option once again. Below is a brief rundown on the common upstream and downstream USB ports, for a more extensive list, visit our USB Connector Guide.
USB-A: USB Type-A is a universally standard connector often found on desktop PCs, older laptops, televisions, media players, and more. Both USB 2.0 and USB 3.2 Gen 1 versions of the connector feature the same form factor. 
USB-B: USB Type-B is commonly used to connect USB hubs, printers, scanners, and larger peripherals to host computers. Coolgear USB hubs often feature a USB-B port as the sole upstream port to connect to host systems. USB 2.0 and USB 3.2 Gen 1 versions feature different form factors. USB-B 2.0 cables may be plugged in to USB-B 3.2 ports.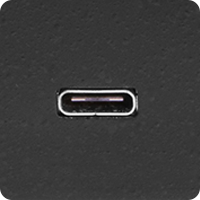 USB-C: USB Type-C is the newest of these connectors and are often found on mobile devices with thinner form factors, newer laptops, and tablets. Depending on the system, these USB-C ports can offer video, network, data transfer and charging capabilities. This connector can find use as a downstream or upstream port. Learn more about USB-C.
Port Orientation
Front facing ports, such as those found on our Workstation hubs would work best in desk installs where peripherals can easily be plugged and unplugged by the user.
Vertical ports, often found on our DIN-Rail hubs, would help ease the connection of peripherals and the setup of cable management in DIN-Rail installs.
Screw-Locking Ports
USB Lock or Screw Lock is a mechanism that is attached to the cable connector end to allow tightening after the USB connection is made. On USB Hubs, screw-locking capability is easy to identify. Downstream ports will often feature threaded screw holes on the sides of the port.
In mission critical installations, it's important to keep a steady connection to all required peripherals. Screw-locking ports, and corresponding screw-locking cables, protect against accidental disconnections. Abrupt disconnections can cause damage to the connected devices or hub.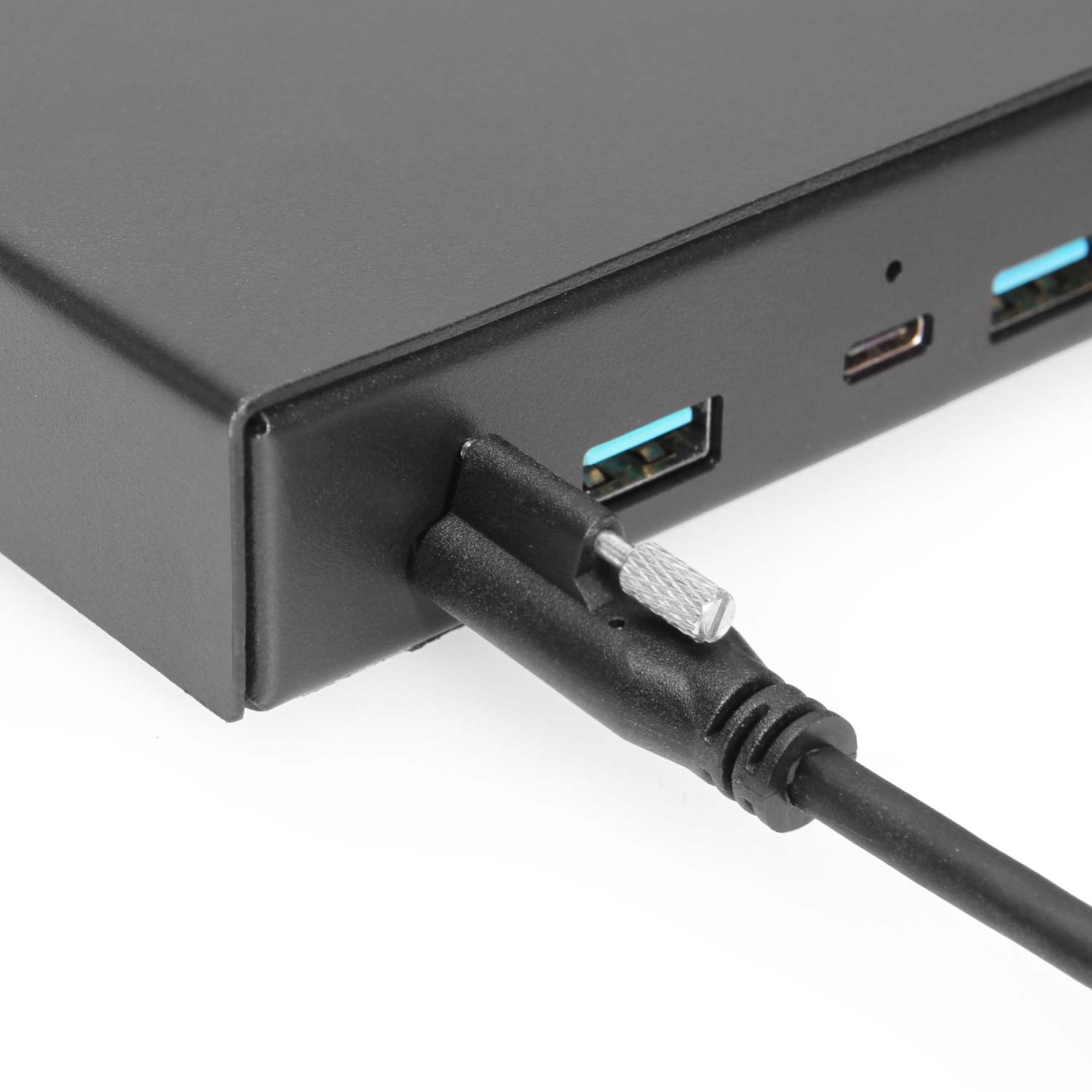 USB-C Screw-Locking Cable
Input Power & Protection
Bus vs. Self Powered Mode
Methods by which hubs attain their power vary. A hub's connected peripherals and their power requirements assist in choosing a power mode – self-powered or bus-powered. Self powered USB hubs come equipped with their own built in or separate AC adapter and plug into a main power supply source. Bus Powered USB hubs pull power directly from the host computer's USB port.
Bus-Powered Hubs
Bus-powered USB devices use the host system's USB interface to retrieve power. With a bus powered hub, each device has to share the power supply from the computer's USB port. This means the power capabilities are the same no matter how many devices are connected. Low-powered devices like mice and keyboards will work, but high-powered devices like external hard drives may fail to work or generate error messages if the USB hub does not have the correct amount of power to operate. Bus-powered devices may function for a time, but with each additional device attached to the host computer, total available bus power is reduced. If power runs out, any USB device attached to the computer will disconnect which could result in permanent data loss and damage to the connected devices or to the computer's USB port.
Bus-powered hubs are best used for keyboards, mice, flash drives, game controllers, and handheld devices. 
Self-Powered Hubs
With a self-powered hub, connected peripherals will not have to rely on a computer's internal power supply. By plugging into an electrical outlet, the hub's AC adapter ensures additional devices can run separately from the computer, allowing the computer and the connected devices to run optimally and not be slowed or drained of power.
Self-powered hubs are best used for powering external hard drives, printers, scanners, medical equipment, security cameras, and other high draw peripherals.
To learn more about Bus-Powered hubs and Self-Powered hubs, visit our guide.
Voltage Range
Voltage Ranges determine the electrical power requirements of the hub. For instance, some hubs may require 7~24V DC. If the hub is planned to be self-powered, then a compatible power adapter voltage must be within the range and convert AC to DC.
Power Input Ports
Another trait to think about is how your hub will physically acquire power. Often, powered hubs come equipped with either a Phoenix Terminal Block (2 or 3 pin), DC Barrel Jack, or Molex Power Connector.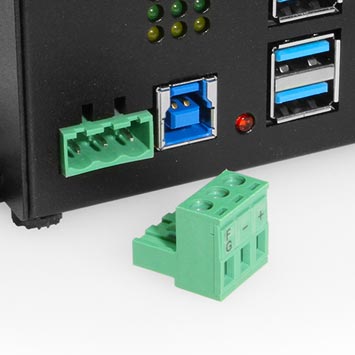 Phoenix Terminal Block (3-Pin shown)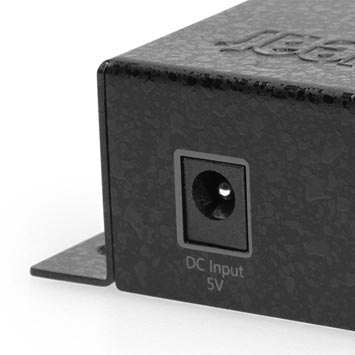 DC Barrel Jack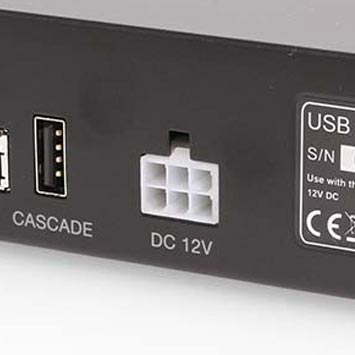 Molex Power Connector (6-Pin shown)
Environmental Protection
ESD, surge, lightning, and over-current protection is paramount in protecting expensive and important peripherals depending on their environment and power specifics. ESD protection limits the reception of electromagnetic energy in order to prevent physical damage. This ability helps equipment properly operate in its electromagnetic environment.
Hubs intended for use in industrial installs must be factory condition ready with ESD Surge Protection as well as a wide operating temperature range. For example, a hub may be required to perform 24/7 in a factory with warmer conditions, abundant electrical equipment, and airborne debris. 
Output Power
Depending on the peripherals, power output comes into play. Do the devices require power from the hub to function? Are mobile devices, tablets, notebooks, or laptops being connected? Do they require charging? Charger hubs allow simultaneous data and power for connected devices.
Power Per Port
USB Hubs with power supplies or self-powered hubs allow power to be supplied to each USB port and connected device. Each USB specification offers a different amount of power.
| Specifications | Max. Voltage | Max. Current | Max. Power |
| --- | --- | --- | --- |
| USB 2.0 | 5V | 500mA | 2.5W |
| USB 3.0 / USB3.1 | 5V | 900mA | 4.5W |
| USB Battery Charging (BC) 1.2 | 5V | 1.5A | 7.5W |
| USB-C Current Mode (non-PD) | 5V | 3A | 15W |
| USB-C / Power Delivery (PD) | 48V | 5A | 240W |
Charging Protocols
USB Battery Charging Specification 1.2
USB BC 1.2 allows connected devices to draw a higher max power than USB's default current output. With the introduction of BC 1.2 came three types of downstream USB ports.
Standard Downstream Port (SDP) –
Power output is equal to the default USB specification's output.
Dedicated Charging Ports (DCP) –
Delivers a higher power output (up to 1.5A) and no data.
Charging Downstream Port (CDP) –
Delivers power (up to 1.5A) and data.
Power Delivery (PD)
USB PD pr USB Power Delivery is a protocol for charging that uses high speed USB-C connectors and cables. Devices that are PD-enabled offer safe and faster charging as well as more power for larger devices, removing the need for additional power supplies.
This universal specification
Qualcomm® Quick Charge (QC)
For powerful, quick charging, certain USB chargers can support QC Quick Charging. USB-A and USB-C ports work with Qualcomm Quick Charging. Qualcomm Quick Charge is limited, however, to mobile phones and tablets that support QC. These often include Samsung, LG, and other Android devices.
Over the years, QC has had increases in power over each new generation. Each new Quick Charge generation is backwards compatible, meaning it will work with the generations that came before.
Voltages
Max Current
Max Power

Quick Charge 1.0

5V

2A

10W

Quick Charge 2.0

5 / 9 / 12V

3A

18W

Quick Charge 3.0

3.6 – 20V (200mV increments

2.5 / 4.6A

18W

Quick Charge 4.0+

3.6 – 20V (200mV increments) QC Mode

5 / 9V USB-PD Mode

2.5 / 4.6A QC Mode

3A USB-PD Mode

18W QC Mode

27W USB-PD Mode
Mounting Methods
One of the most important factors in choosing the right hub is the required mounting method(s). The hub's location determines which method should be chosen. Surface & Wall, DIN-Rail, Rack, & Desktop are the main mounting methods offered. Many of Coolgear's hubs offer options for switching between multiple mounting methods.
Surface & Wall Mount
A common method of mounting, surface mount hubs are designed to attach to a flat surface. They allow mounting in a fixed position with minimum hardware. This method is perfect for desktop or under-desk installs, installations in control rooms or production facilities, and autonomous vehicles. Compared to other mounting methods, these hubs are harder to relocate than the alternatives.
DIN-Rail Mount
DIN-rail hubs can be mounted without a full rack installation. The hub snaps onto the rail within equipment racks. Using a DIN-rail to mount several devices keeps them organized & reduces cable tangling. This method is perfect for PLC & Telco control panels, industrial control, junction boxes, CNC, and other heavy machinery. Multiple Coolgear hubs include optional DIN-Rail clips to be installed on their rear side.
Rack Mount
Rack mount hubs fit in a standard 19″ rack. Providing a Clean and Secure install into your Network or Server Rack. These hubs allow the installation of a multiport usb hub with ease and without all the clutter. This method is perfect for Charging / AV Carts with a standard 19″ rack, server rack cabinets, and network cabinets. Coolgear rack mounting hubs measure out to 1 Rack Unit with a height of 1 3/4 inches (44.45 mm).
Desktop
Desktop hubs are popular with home computers. They plug into the computer and stand free, often atop rubber feet. They're simple and inexpensive, but add to the real estate taken up atop the desk. This method is perfect for office workstations, simple home office setups, schools, and hotels.
Getting Ready for Integration
Depending on your install, Coolgear can adhere to the requirements of any project. We offer our hubs in various styles such as off-the-shelf, hub only, and PCBA versions. This way, clients can pay for exactly what they need and avoid paying for unneeded accessories.
Off-the-Shelf: Many of Coolgear's products, USB hubs included, are off-the-shelf packed and ready to go. Our pre-packaged hubs often come with the hub, a USB cable, some form of mounting hardware, a 2 or 3 pin terminal block, and a pack of screws. Depending on the hub series, different items may be included. DIN-Rail series hubs include DIN-Rail mounting clips and Workstation series hubs come packaged with a power adapter.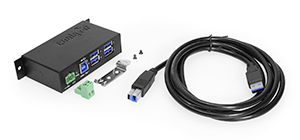 Hub Only: Depending on the specifics of the project, the extra accessories included in the off-the-shelf solutions may not be required. Cables and mounting choices may differ than what is included. Coolgear offers just the hubs alone to be shipped in bulk.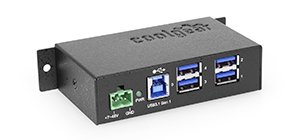 PCBA Versions: We offer a variety of our popular hubs in a PCBA form for when accessories and chassis are not required. Any of our hubs can be sold as PCBAs if the project requires. If a specific PCBA is not listed in our catalog, feel free to reach out to our sales team and we'll get you dialed in.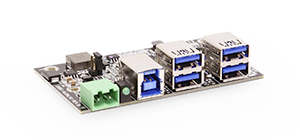 Custom Builds
Coolgear Labs is Coolgear's division designated to design and manufacture custom solutions. When your next project demands a custom solution, reach out and we'll talk protocols, operating temps, mounting solutions, power requirements, production forecasting, logistics, and more. Visit Coolgear Labs.