Simplify Installation and Save Costs with Coolgear's CG-EZPoE60PDN Adapter for USB-C Devices
The CG-EZPoE60PDN Adapter
The CG-EZPoE60PDN adapter is a compact and portable indoor PoE networking converter, designed to deliver power & data over Ethernet to USB-C devices. Designed to provide the flexibility to install USB-C devices, quickly charge the device while enjoying a stable network. Deliver power and data through one cable to avoid a cumbersome install. The PoE power supply can be located up to 100 meters from the USB-C device, providing 60W of USB power for mobile phones, tablets, laptops, and other Type-C devices.
Technical Specifications
The CG-EZPoE60PDN adapter is compatible with USB-C devices and supports the latest Power Delivery (PD)2.0/3.0 charging protocol. Encapsulated in an IP40 white plastic housing, this adapter supports up to 60 watts of power delivery.
Input: RJ45 Female Connector
Output: USB Female Type-C
IEEE802.3 10Base-T Ethernet
IEEE802.3u 100Base-Tx Fast Ethernet
Support PoE injector with IEEE802.3bt
Features of The CG-EZPoE60PDN Adapter
The plug-and-play design allows it to be used straight out of the box without any additional setup. At 100.4 x 60 x 22 mm in size and weighing only 129 grams, the adapter is compact, portable, and easy to pair.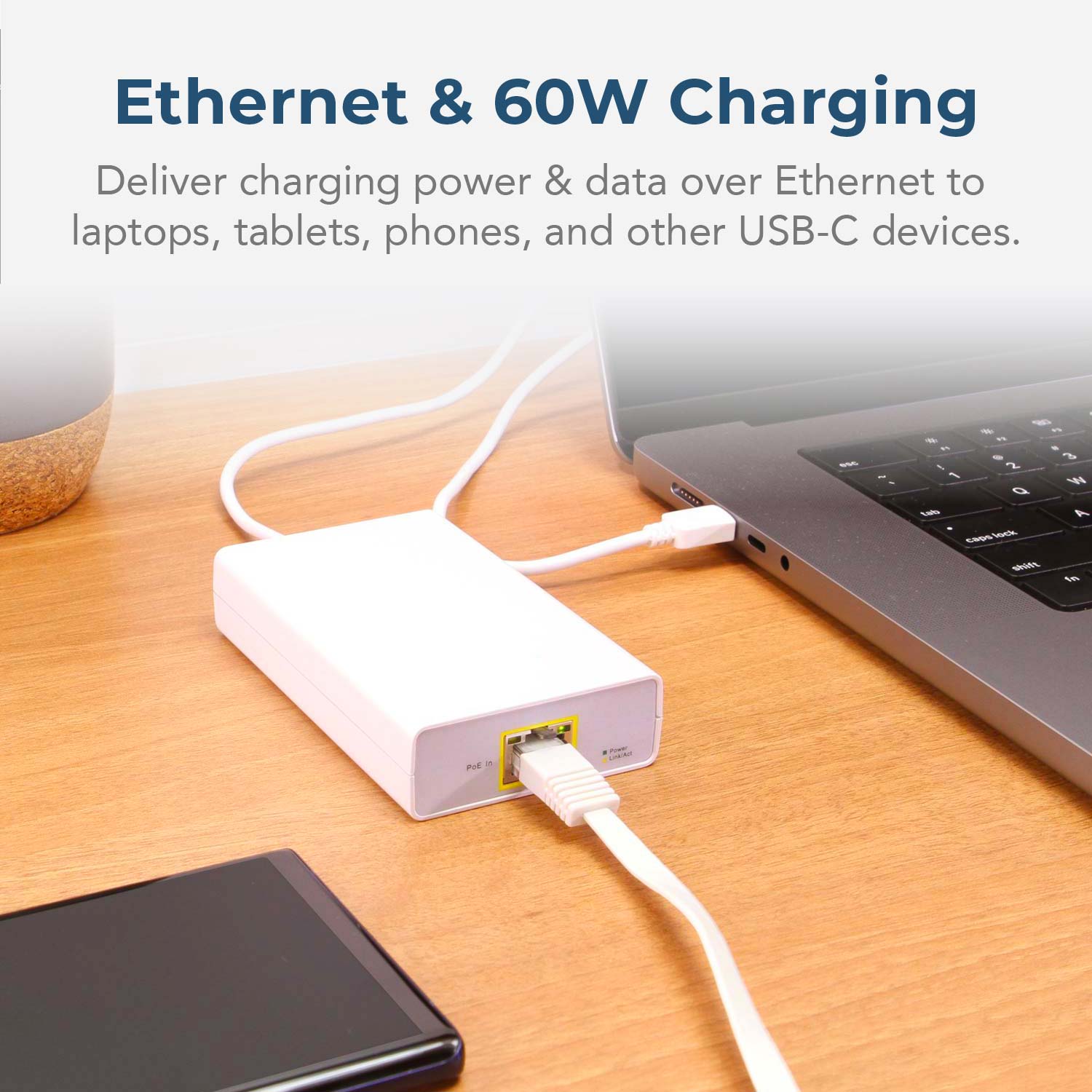 Benefits of CG-EZPoE60PDN and PoE
PoE is a standard that allows Ethernet cables to transmit data and power simultaneously using a single network cable. The benefits of PoE include simplified installation, cost savings, flexibility, and improved safety.
The CG-EZPoE60PDN can be installed in locations that lack electrical circuitry, which allows for greater flexibility in device placement and mobility. Like other PoE devices, no additional electrical wiring is needed during installation.
Uses for CG-EZPoE60PDN Adapter
The CG-EZPoE60PDN adapter is perfect for use in various settings, including hot desks, kiosks, PoS systems, voting machines, and other tablet interaction terminals.
Coolgear Offers Solutions You Can Count On
Coolgear has been successfully engineering and deploying millions of connectivity solutions in the industrial, medical, automotive, commercial, and aerospace industries. With over 20 years of experience, you can trust Coolgear to be your USB connectivity & charging experts. Connect with us for more information about the CG-EZPoE60PDN adapter, pricing options, and more.
CG-ezPoE60PDN is an indoor PoE networking converter, designed to deliver power & data over Ethernet to USB-C devices. Provide data and charging to your laptops,…
Model# CG-EZPoE60PDN
$

99.99
In stock