CLEARWATER, FLA. (PRWEB) JULY 11, 2018
A cutting-edge USB 3.1 Gen2 USB hub from Coolgear Inc. that combines both USB-C and legacy USB-A ports, fully supports SuperSpeed+ data transmission (10Gbps), and provides quick battery charging.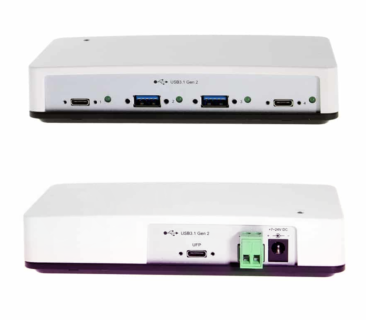 Coolgear Labs, the engineering and development division of Coolgear Inc., brings to the market a fully compliant USB 3.1 Gen2 hub. The hub's unique design offers both DC barrel and 2-wire Phoenix connections, plus type-C and type-A USB ports to cover a broad spectrum of power and speed. Designed with versatility in mind, it can be wall, surface or DIN rail mounted.
Using the latest iteration of USB 3.1, Coolgear Labs produced a hub that complies with both Gen2 and legacy specifications. The hub features one upstream port on the back panel and four downstream facing ports in front. Each port can support SuperSpeed+ USB 10Gbps devices.
Variable Input Voltage
One notable feature of the hub is the Variable Input Voltage with a two-wire Phoenix Contact (included) that allows the hub to be configured for voltages between +7 and 24V DC, depending on the application.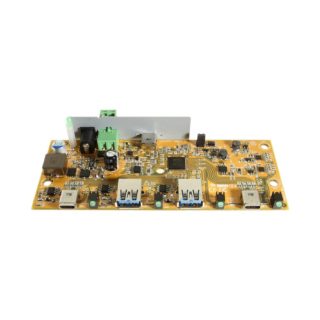 Current Design Features
    Compliant with USB 3.1 Gen2 Specifications
    Supports 10Gbps (SuperSpeed+); backward compatible to 5Gbps (SuperSpeed), 480Mbps(High-Speed), 12Mbps(Full-Speed), and 1.5Mbps(Low-Speed) data rates
    Provides 4 (two USB-C and two USB-A) Downstream facing USB 3.1 Ports (DFP)
    Provides 1 USB Type C Upstream Facing Port (UFP)
    Multi Transaction Translators (TT) per Hub
    Optional Variable input power: +7 – 24V DC through 2-wire terminal plug connection
    USB-A 3.1 provides 900mA normal charging for USB devices
    Rigid plastic Wall and DIN Rail Mounting Case
    Green LED indicators
    Support USB Battery Charging: SDP, CDP and DCP modes
    Wall and DIN Rail mounting hardware included
    USB Type C to C Gen 2 cable included
    12V DC Power adapter included
    Item Dimensions: 152.04mm(L) x 62.45mm(W) x 30mm(H) – 152.04mm(L) x 67.67mm(W) with 2-pin connector x 34.25(H) with mounting plate
Looking ahead to Q4
Power Delivery (PD) and 7-port versions of the hub are in the final stages of development and expected to be released in the 4th quarter of this year.
Current projects from Coolgear Labs include:
    USB PD over POE+ (60watts)
    USB 3.1 Gen 2 Type C Active Optical Cable (AOC)
    USB 4 Port Power Delivery(PD) hub w/IPD (intelligent power distribution)
Order Details
The USB 3.1 Gen2 hub (part # CG-4P31CHUB) is available now at Coolgear.com and shipping in quantity. For information on pricing, please contact your Coolgear Sales representative or send an email to: [email protected]