PCIe to 4X PCI Slot Expansion
This PCIe peripheral expands the PCI slot by four adding more functionality and PCI capability to your computer system. Once installed into your Workstation, the PCIe host controller card through its 3ft. expansion cable connects to the 4 slot PCI expansion box.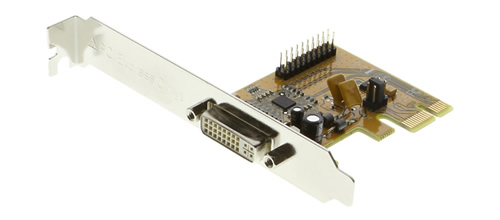 The PCIe to PCI x4 expansion box is an enclosure that uses a 12VDC AC power adapter, this is necessary to supply the power needed to use the new PCI slots. Data is transmitted along the 3ft. DVI like expansion cable to your computer. All components are an easy install for your expanding PCI usage.
Features
Supports 1-lane 2.5Gb/s PCI Express Data Transfer Rate.
Expands 4 PCI 32-bit 33MHZ PCI Express Slot.
PCI slots are fully PCI Bus Rev. 2.3 Compliant.
Supports both 5V and 3.3V PCI Add-in Cards.
Low profile version is available (optional) by changing the short bracket of the host PCI Express Card
12VDC AC Power Adapter is required.
Dimensions: 15.0in(L) x 5.625in(H) x 5.375in(W)
Package Contents
Metal Expansion Box
Add-in PCIe Host Card x 1
DVI like Expansion Cable x 1
12VDC/AC Power Adapter x 1
Driver CD x 1
Installation Guide x 1