Keeping up with USB Hubs, their technological advantages, and increasing usage…
The USB Hub Challenge?
It can be challenging to keep up with the amount of information and equipment needed for any industry,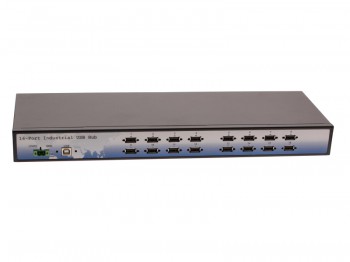 having the correct USB hub to empower that equipment is paramount to business operation.
We at CoolGear are finding more often than not that the need for peripherals through a Din-Rail or Rack-Mountable hub has increased in high end companies such as HP, Time Warner, and Redbox to keep up with consumer demands and system use.
We develop our industrial USB hubs thinking about the needs of various industries. We've started our new blog off with and introduction to our new USB 2.0 industrial hub, have a look at the details below and feel free to ask a question.
The CG-1600i-RM Industrial USB 2.0 16-Port Rack Mountable Hub, it is USB powered by an industrial-grade switching power supply and provides normal operation in wide ambient temperatures from -40°C to 70°C (-40°F to 158°F) operation in a harsh environments with 15Kv ESD protection. The hub is backward compatible with USB 1.1 and provides for full 500mA of power to each of the connected USB devices.
Technical Advantages – USB Hub Information
Adds 16 USB 2.0 ports for peripheral use
Industrial-grade metal case
DIN-Rail compatible mounting options
19" Rack compatible mounting options
Over-current detection and protection on all ports
Provides 500mA @5VDC to all ports
Supports USB 2.0 transfer speeds of 480Mbps and backwards compatible with USB 1.1
Plug-And-Play; No software or extra drivers required
15KV ESD protection
LED status indicators for hub power and port connections
Supports wide operating temperate range: -40 to 70C (-40 to 158F)
Who should be using 16-Port USB 2.0 Hubs?
As mentioned above, high end businesses are trying to keep up high demand processing, we've provided a list of industries we have provided for both in an industrial and commercial environment, these industries include but aren't limited to:
Aerospace
Airlines or Aircraft
Broadcasting
Defense
Education
Electronics
Marine
Manufacturing
Publishing
Retail
Software Development and more.
CG-1600i-RM Rack Mountable USB 2.0 Hub
The rack mountable hubs are designed to go through a rugged environment and handle large amounts of data with USB devices such as portable storage devices, reaching speeds of up to 480Mbit/s at Hi-Speed per port, rack mounting the hubs allows the user to better organize their cabling system to support the devices connected to it. This particular hub is manufactured with screw lock mechanisms on each USB port including the upstream type "B" at the hub connection. Din Rail mounting is supported for flat surface mounts.
USB Hub Speed Information:
USB 1.1 speed from 1.5Mbps to 12Mbps
USB 2.0 backward compatible with USB 1.1 reaches speeds of up to 480Mbit/s Hi-Speed (in the example above this time is now cut to approximately 15 to 20 minutes at full bandwidth.)
The CG-1600i-RM operates at both USB 1.1 and USB 2.0 speeds; the above speed information is the standard specification for this version of the technology. The hub's power input is 110-220V AC and is equipped with LED indicators for both power and USB port status while in use.
Check back often as CoolGear continues to keep up with technology, and keep you informed!