Coolgear designed a sleek new integrated chip (CGPD18 IC) to support low power USB C devices with Power Delivery. The CGPD18 IC easily converts PoE to USB Type-C power and is expanding the possibilities of commercial and industrial USB-C PD designs.
The CGPD18 IC is currently being used in our new CG-POE15VPD USB C with PD (power delivery) PoE Splitter for Nest Cam IQ Outdoor & Nest Cam IQ Indoor.
What is USB C Power Delivery?
With 10 times the power capacity of earlier USB protocols, USB-C powers modern electronics with the capacity to charge a phone in 15 minutes or simultaneously charge a laptop and power an external monitor. Phones, cameras, Wifi Access Points, laptops and tablets utilize the USB-C PD standard.
While other USB connectors are still popular, many new designs tend to gravitate towards Type-C because of the long term advantages it offers. Before USB C, consumers found it challenging to locate USB-C chargers that were compatible with a variety of devices, so Coolgear developed the CGPD18 IC as a cost-effective USB-C PoE integration to be used in a broad range of implementations.
Why USB-C With Power over Ethernet?
While USB-C is gaining popularity, it still has its limits. Many of the best cables can only transmit power about ten feet (three meters). And USB-C is currently not integrated into the overall construction of buildings and homes.
Ethernet, on the other hand, has been cost effective, travels up to 330 feet and can be found in most modern construction projects. With PoE, you can transmit power without having to pay electricians or pull permits, providing enormous cost savings and ease of implementation. For a fraction of the cost, you can complete sophisticated installations with equipment you already have on hand.
Coolgear envisions the use of the chip in other converters and devices where additional cable length is needed for low power.
Coolgear's IC Delivers Palm-sized Power Delivery For Nest Cams:
The Nest Cam security camera is one of the most sought after devices for remote security systems, but camera users found the out-of-box setup difficult to hide due to the need to plug the device into a power socket and the limited 25ft USB wire length. The new Mini PoE to USB Type C Adapter All-in-One (CG-POE15VPD), designed by Coolgear Labs makes use of the new integrated chip (CGPD18 IC). This all-in-one power extender allows camera users to move Nest Cams' an additional 100m (328ft.) using a Cat5/6 cable from a PoE injector while removing the need for bulky A/C adapters that give away the location of the camera. Nest users can now create highly effective surveillance systems that are out-of-sight and secure from theft.
Partnering With Coolgear Labs to Design Innovative Solutions
Coolgear has designed and engineered this IC to be applied into your own circuit design and power delivery applications. The chip's built-in features and benefits add a great value to its intended purpose.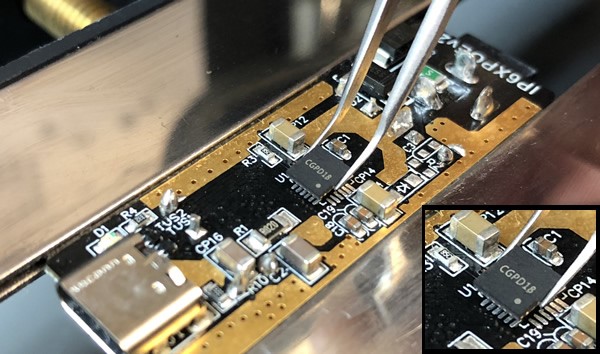 Overload & short-circuit protection.
Industrial temperature operation.
Made to withstand harsh environments.
This chip has a maximum ambient operating temperature of 78°C
9-12Watt PD profile.
Power Input: PoE PD IEEE802.3af compliant POE (PDoE)
Power Output: USB Type C PD.
Status LED.
Designed to provide power to low power PD devices with type C port.
Cost-effective and scalable solution.
Specifications
Fully IEEE802.3at and IEEE802.3af compliant POE.
Class 0 (0.44 Watts to 12.95 Watts) USB type C PD 9-12Watt PD profile.
1500VDC isolation (input to output).
Class 0 signature.
At Coolgear we're dedicated to developing advanced technology, manufacturing quality products, and testing out new ideas and concepts for computer technology and its advancements. Need help with your next project? For more information, visit Coolgear.com or contact us.