Coolgear has developed and designed a new integrated circuit chip to work with USB Type-C power delivery outputs. This first-of-its-kind chip (CGPD18 IC) was designed to increase adoption of USB Type-C to power small electronics and provide ultimate flexibility for both business and casual consumers. As of today, this new technology has allowed us to create the smallest PoE to USB-C PD adapter in the world — 60 percent smaller than any other PoE to USB-C solution.
The Growing Popularity of USB-C Power Delivery
USB-C power delivery has become popular because of its speed in charging and powering electronics — in fact, it has 10 times the power capacity of past USB protocols. But Type-C is also limited because it can transmit power only about 10 feet (3 meters). An integrated circuit designed specifically for use with low power Type-C devices can increase options for compatible devices and converters, particularly from Ethernet (PoE) to Type-C, thus increasing adoption of USB-C.
USB Type-C Power Delivery provides new and exciting design options where size, industrial design and style are important factors. It also enhances ease of use due to less confusion for plug and cable orientation.  
USB is evolving from a data interface that supplies limited power to a primary source of power with the data interface.
Power Delivery – More power with USB Power Delivery (up to 100W)
USB Type-C – More Flexibility with a new reversible USB-C connector
More Protocols – Video Alt Mode, Display Port, HDMI, Ethernet
More Speed with USB 3.1 (10 Gbit/s)
Coolgear Brings New Innovation To The Nest CAM
Coolgear has introduced the chip commercially in a PoE to USB Type C PD adapter for use with Nest Cam Indoor and Nest Cam Outdoor plug-and-go security cameras. The Nest Cam Outdoor, for example, comes with a 25-foot USB Type C cable so it cannot be mounted further unless an extension featuring Coolgear's technology (CG-POE15VPD) and new integrated circuit is in place. The addition of USB Type C as an option for low power devices has lead to more flexibility for electronics owners as well as increased data speeds and power transmission.
Features of the CGPD18 IC Chip
This new CGPD18 IC chip is versatile enough to be used with virtually any independent circuit design and power delivery application. It integrates overload and short-circuit protection for increased safety and prevention of damage to sensitive electronics.
Coolgear's IC chip is built to support the following maximum PD voltage profiles: 5V 2.39A | 9V 2.07A | 12V 1.51A | 15V 1.27A | 20V 1.11A. See the following chart for information on the chip's versatility for power delivery output.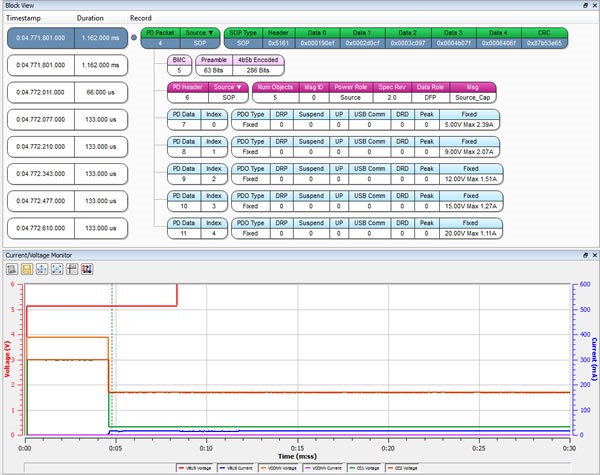 Made for use in harsh environments, Coolgear's CGPD18 IC chip operates in temperatures up to 78°C (172°F), which is suitable for a variety of industrial uses.
A Lower Cost Solution To Power
In order to reduce cost and implementation time, the CGPD18 IC has been preprogrammed with lower PD profiles and is designed to work with various USB Type C outputs and supports PD voltage profiles from 5V to 20V. Instead of using expensive chips that need to be programmed to meet low power specifications, the CGPD18 IC costs three times less and works instantly.
CGPD18 Integrated Circuit Use
The Coolgear CGPD18 IC was developed to provide versatility for USB Type-C power delivery and can be used in a wide range of applications. Built-in features include:
Designed to provide power to low power PD devices with type C port
Compact design & footprint
Overload and short-circuit protection
Higher flexibility for designers needs
Industrial temperature operation
Cost-effective and scalable solution
Maximum ambient operating temperature of 78°C
Made to withstand harsh environments
Power Output: USB Type C PD
Coolgear engineers have been working hard over the past year to improve PoE development, and with the addition of the CGPD18 IC, the ability to easily convert PoE to USB Type-C is a reality. Coolgear envisions the use of the chip in other converters and devices where additional cable length is needed for low power.
About Coolgear
As one of the world's largest internet-based companies, Florida-based Coolgear, Inc., offers innovative USB products paired with top-notch customer service and technical support. With a 20+-year history of supplying computer peripherals, industrial serial adapters and USB component products to the aerospace and education industries as well as consumers around the globe, Coolgear continues to develop advanced technologies that benefit engineers, product installers and end users. For more information, visit Coolgear.com or contact us.