The CG-PCIeS3-i4p 4 Port SATA3 RAID PCI Express card provides a scalable, high-speed, serial I/O bus that maintains backward compatibility with PCI applications and drivers. Its architecture defines a high-performance, point-to-point, scalable, serial bus at speed of 500Mbytes/sec to 4GBytes/sec (and 8Gbytes/sec in the future).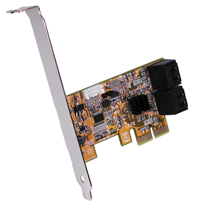 High transfer rate is supported by the 4 Port SATA3 RAID PCIe card up to 1,000MB/S (2 lanes) for large imaging data file applications. It breaks the bottleneck and extends the bandwidth of the current data I/O. Besides RAID 0, 1 and 0+1 modes, the CG-PCIeS3-i4p MSU supports HyperDuo modes that allow the SSD and a SATA drive to increase its reliability (Safe mode) or optimize the maximum utilization of the SSD (Capacity mode)
Additional Features and Specifications:
System
Available 2-lane PCI Express slot for Gen2 Systems
PCI Express Interface
Compliant with PCI Express Specifications 2.0
 Serial ATA Ports
4 SATA3 ports which fully support devices up to 6.0Gb/s data transfer rate.
Supports Hot-Plug and Hot-Swap Features.Supports Port Multiplier Based on FIS Switching.
Onboard ROM BIOS Supports Boot and RAID Re-build Features
Supports SATA Devices in RAID 0, 1 and RAID 0+ 1 Modes
MSU supports HyperDuo Modes: Safe and Capacity Modes
Supports Native Command Queuing (NCQ)
I/O Hardware
Supports two double-deck (4 ports total) internal SATA connectors.
 OS Support
Windows 2000, XP, 2003, Vista and Win 7
Form Factor
3.11" x 1.89" (7.90cm x 4.80cm)