Also available from the following online retailers:
The CG-RS1S is compatible with new and legacy RS-422 and RS-485 devices using its single port DB9 male connection. The Single Port RS-422 / 485 PCMCIA PC Card is easy to install and use with its Plug-and-Play feature. It provides the scalability to quickly adapt to new serial technologies.

With the Single Port RS-422 PCMCIA Card's Plug-and-Play feature and drivers all that is needed is to simply follow the instructions of Install Wizard, then you are done. You don't have to deal with I/O address, IRQ jumpers, DMA and others when you are connecting the devices, your system will recognize the device and install the drivers automatically. The CG-RS1S is an ideal solution for your expanding applications.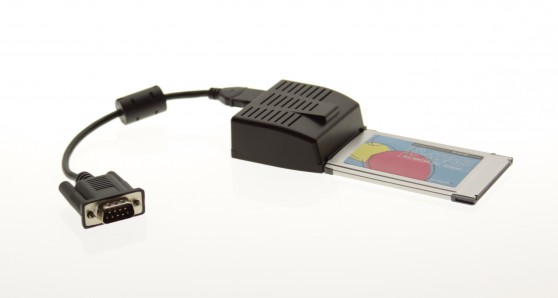 Single Port RS-422 / 485 PCMCIA PC Card Features & Specifications:
Speed: up to 921.6Kbps
ATTA™: Auto RS-485 Transmitter buffer direction control by the ATTA™ Hardware. Guarantee Fast Turn Around the Transceiver.
Connectors: One DB9 Male Connectors via Adapter Cables
Interface: 3 modes are selectable: 4-wire RS-422 (TXD+/-, RxD+/-). 2-wire RS-485 (TxD+/-, RxD+/-). 2-wireRS-485(Data+/-, ata+/-)
Single Port RS-422 PCMCIA Additional Features:
One 16C950 UART Serial Ports over PCMCIA Slot
16-Bit PCMCIA R7.1 and backward Compatible
Supports RS-485 Auto Transceiver Turn Around by Unique Featured ATTATM Hardware
IRQ Sharing Feature Eliminates IRQ Conflicts
One 15pin-DB9-male Adapter Cables
4-wire RS-422/485 and 2-wire RS-485 applications
RS-422/485 speed up to 921.6Kpbs
Optional model: Isolated and 15KV ESD Surge Protection
Fully 32-bit CardBus Type-II Slot, 16-Bit PCMCIA R7.1 and backward Compatible
OS Support
Windows 10, 8, 7, Vista, 2008, 2003, Win2000, XP, Me, NT, 95/98, and Linux