USBG-4X232P1 Product Description
Also available from the following online retailers:
Industrial CoolGear USB 4-Port Serial Adapter features the best components, including FTDI FT232RL Chips, Mutli-TT USB 2.0 GL852 Chip and ZT213LFEA Zywyn Corporation Very Fast 921.6K bps UART Chip. Our USB 4-Port Serial adapter complies with FCC/CE and RoHS guidelines, it uses a metal industrial quality shell and UltraFlex USB and Serial Cables for its connected devices.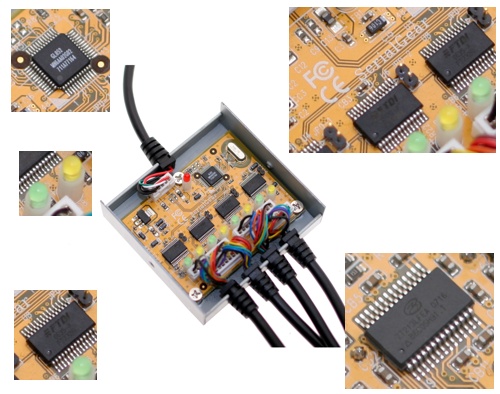 The 4X232P1 USB 4-Port Serial Adapter is designed to make serial port expansion quick and simple. Connecting to a USB port on your computer or USB hub. The USB 4-Port Serial Adapter instantly adds four RS-232 serial communication ports to your system by taking advantage of the USB bus. With easy Plug-and-Play and hot plug features the adapter is automatically detected and installed with no configuration required, no IRQ & COM port conflicts since the ports do not require any additional IRQ, DMA, memory as resources. The USB 2.0 Quad Serial Adapter is bus-powered, and it works with the USB host port supplying power of 500mA.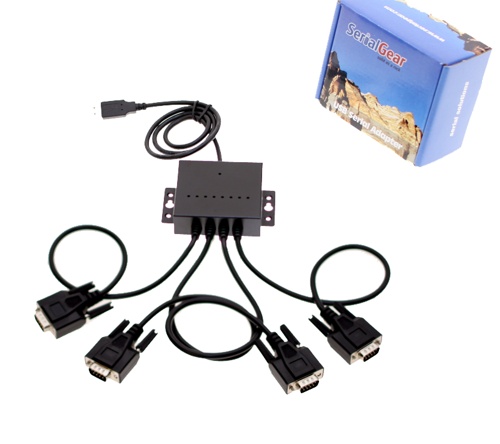 The USB 2.0 Quad Serial Adapter provides instant connectivity with modems, ISDN TAs, PDAs, handheld & pocket PCs, digital cameras, POS, serial printers. It is suitable for remote access, retail and industrial applications, data collection and other applications requiring high speed RS-232 serial communication ports.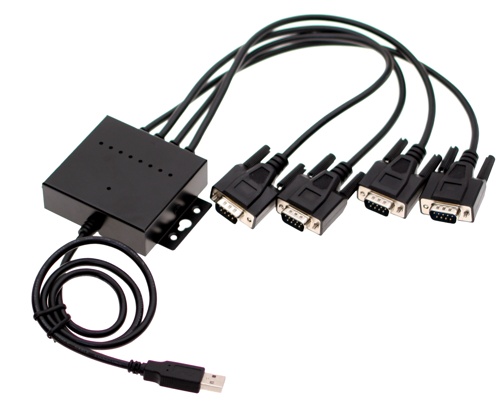 Additional Features & Specifications
Model No.: 4X232P1
Adds four RS-232 serial port by connecting to USB port
Installed as standard Windows COM ports
Full RS-232 modem control signals
RS-232 data signals: TxD, RxD, RTS, CTS, DSR, DTR, DCD, RI, GND
Serial ports speed up to 921.6K bps
Four DB9 male connectors
COM Port Number can be changed to COM1 to COM4 to support HyperTerminal,or any other COM port number required
USB cable of 0.9 meter included
Bus-powered
System requirement:
USB host port of 500 mA.
Easy plug & play installation and RS-232 device connection
Works with USB 1.1 & 2.0 host port
SECC sheet metal chassis with DIN rail bracket
Dimensions:
73 mm x 68 mm x 24 mm
95 mm x 68 mm x 24 mm (with mounting flanges)
OS Support:
Windows XP, Vista, Windows 7, Windows 8, and Windows 10
Linux and Mac OS 10.X