The Coolgear SG-PCIE4S422485OCT RS422 / 485 to 4 Port PCI Express card incorporates 4 new serial ports that are designed for your PC, workstation, thin client, or server to provide instant RS422 / 485 Serial communication port expansion via the PCI Express bus.
Also available from the following online retailers:
The SG-PCIE4S422485OCT 4 Port PCI Express card provides 4 additional serial ports via breakout cable connected to your new PCI Express Card. This card introduces a scalable, high-speed, serial I/O bus that maintains backward compatibility with PCI applications and drivers. Its architecture defines a high-performance, point-to-point serial bus at speeds of 250Mbytes/sec to 4GBytes/sec.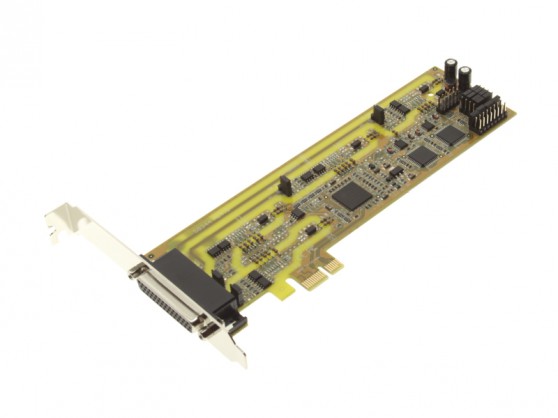 Coolgear's SG-PCIE4S422485OCT is easy to install and use with its plug-and-play feature and immediately provides necessary scalability to quickly adapt to new serial technologies. The PCI Express Card's complete product line offers you many choices in helping you to expand with its compatibility features to new and legacy RS422/485 devices.
With the PCI Express Plug-and-Play feature and drivers, simply follow the instructions of the Install Wizard and your installation is complete. No need for configuration with I/O address, IRQ jumpers, DMA and others when you are connecting your devices, the computer system will recognize the device and install the drivers automatically. This is an ideal solution for your expanding your serial applications.

Features
Full x1 PCI Express Throughput, 250Mbytes/sec
Fully Compliant with PCI Express Base Specifications, Revision 1.1
Supports RS485 Auto Transceiver Turn Around by Unique Featured ATTATM Hardware
128-byte deep FIFO per transmitter and receivers
Supports 4 DB9-male Connectors over an Octopus Cable
Supports Low Profile Form Factor with Optional Low Profile Bracket
Support 4-wire RS422/485 and 2-wire RS485 Modes
Supports RS422/485 Speed up to 921.6Kpbs
Optional Model: Isolated and 15KV ESD Surge Protection
Supports Windows 10, 8, 7, Vista, 2008, 2003, 2000, XP, NT, Me, 95/98, and Linux
Additional Features & Specifications:
System
Fully Compliant with x1 PCI Express Base Specifications 1.1
Serial Ports
Four DB9-male RS422/485 Connectors with an Octopus Cable, the key benefits are:
Connector: Four DB9 Male Connectors over a DB44 Octopus Cable
Interface: 3 modes are selectable: 4-wire RS422 (TXD+/-, RxD+/-). 4-wire RS485 (TxD+/-, RxD+/-). 2-wire RS485 (Data+/-)
Parity: None, Even, Odd
Data bits: 5,67,8,9 bits Data Frames
Speed: up to 921.6Kbps
Terminator: 120 OHM, can be Enabled/Disabled by a Jumper
ATTATM: Auto RS485 Transmitter buffer direction control by the ATTATM Hardware. Guarantee Fast Turn Around the Transceiver.
I/O Hardware
Four DB9-male Connectors over a DB44 Octopus Cable
OS Support
Windows 10, 8, 7, Vista, 2008, 2003, 2000, XP, NT, Me, 95/98, and Linux
Environmental Specifications
Operating Temperature: 0 to 55°C (32 to 131°F), 10% to 90% relative humidity (non-condensing)
Storage Temperature: -40 to 75°C (-40 to 167°F), 5% to 95% relative humidity (non-condensing)
Form Factor
7.56" x 2.63" (19.20cm x 6.68cm)