The USB-4COMi-SI-M is a USB to Quad RS-422 485 Optical isolated serial adapter and is designed for commercial and industrial communication applications where Optical Isolation is a must have. Serial RS-422 or RS-485 port expansion is made simple with the USB-4COMi-SI-M by connecting to a host USB port on your computer or USB hub for Plug-and-Play installation and automatic serial device detection.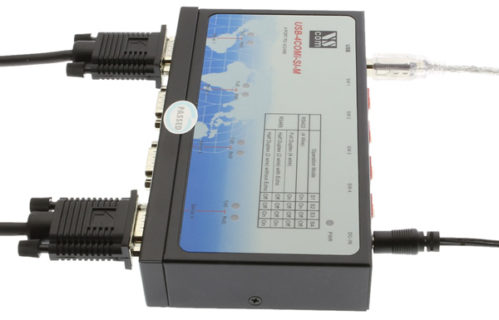 The USB to Quad RS-422 485 does not require additional IRQ or DMA configuration so it does not use memory as a resource on the system, therefore there are no conflicts. The adapter is self-powered, and one power supply adapter of 6V/2.1 Amp is included.
The adapter is designed with a four external 4-pin dip switches (pictured below) to set RS-422 or RS-485 mode conveniently, without the need to open the metal chassis. Each port can be independently set to RS-422 or to RS-485, depending on your requirement in application.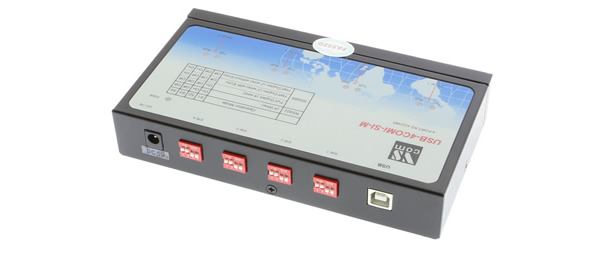 The USB-4COMi-SI-M USB to Quad RS-422 adapter has a built-in surge protector to withstand electrostatic discharges and power surges up to 25KV ESD. The USB to RS-422/485 Adapter provides instant connectivity to RS-422 or RS-485 communication devices for POS, factory automation equipment, multi-drop data collection devices, bar code readers, time clocks,  scales, data entry terminals, PC to PC long distance communications, ATMs and serial data communication in harsh environments. The adapter's USB to Industrial I/O provides industrial solution requiring single node or multi-drop communications over short and long distance.
Additional Features:
Adds four RS-422 or RS-485 serial ports by connecting to a USB port
2000V DC optical isolation
25KV ESD surge protection
No need to open chassis to set operation modes- four external DIP switches for easy RS-422, RS-485 mode settings
Installed as standard Windows COM port
SECC metal chassis with DIN rail bracket
RS-422 data signals: TxD-, TxD+, RxD+, RxD-, GND, RTS-, RTS+, CTS+, CTS-
RS-485 4-wire data signals: TxD-, TxD+, RxD+, RxD-
RS-485 2-wire data signals: Data-, Data+
Automatic transmit and receive control for 2-wire RS-485 half-duplex mode
Built-in termination and biasing
High speed serial port with the baud rate up to 921.6K bps
Non-standard baudrates supported
LEDs of Power, TxD and RxD for easy port monitoring and diagnostics
Self-powered. One switching power adapter of 5V, 2A provided
Easy plug and play installation and RS-422/RS-485 device connection
COM port number assigned can be changed to any COM port number required
Works with USB 1.1 & 2.0 host port
Item Dimensions: 6.57(W) x 3.897(L) x 1.14in(H)
OS Support:
Windows 10, 8, 7, Vista, XP, 2003, 2000, ME and 98
Linux and Mac OS 10.X
Package Contents
4 port USB to RS422/485 isolated serial adapter
Din Rail mounting plates and screws
USB A to B Cable