Coolgear Inc., an industry leader in computer peripheral development and manufacturing has engineered a PoE system of extending power to the Nest Cam IQ Outdoor. Using the benefits of USB Type-C power delivery (USB-PD), the Nest Cam IQ Outdoor can maintain power from a distant power source up to 100 meters away. This is a must have for security minded businesses!
Clearwater, Florida, May. 7, 2018 – USB Type-C power delivery over Ethernet is a new and sought after power delivery method for specialized devices. Coolgear has developed a unique and exceptional extension kit for the Nest Cam IQ Outdoor camera. It utilizes USB Type-C connectivity with Power over Ethernet. Coolgear's PoE Extension Kit, CG-PWRPNESTKIT, is available now through its website for immediate delivery.
Extending Nest Cam IQ Power Delivery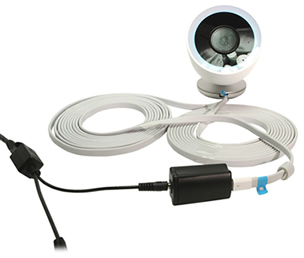 With the already impressive capabilities of the USB Type-C protocol, its ability to adapt to various applications makes Coolgear's CG-PWRPNESTKIT the Power over Ethernet solution for the Nest Cam IQ Outdoor. USB Type-C by itself has limitations due to USB protocols, more specifically, its limitation of length while delivering power (The Nest Cam IQ Outdoor camera has a 25ft. included cable). Coolgear's Nest Cam Power Extension Kit solution solves the length limitation.
Why USB Type-C
Despite USB Type-C having it limitations, today's technology is favoring the USB-C protocol for data speeds, power transmission (up to 100W), reversible connector, and its adaptability. This protocol surpasses its previous incarnations to achieve the possibilities and solutions we are now able to develop.
CG-PWRPNESTKIT Components
The CG-PWRPNESTKIT is a custom PoE Kit tested and developed specifically for the Nest Cam IQ Outdoor.
A newly designed DC to USB Type-C Power Pod (CG-22WPD21B) limited to 22 Watts of power for Power Supplying Equipment (PSE); this provides over-power control to keep your investment safe.
PoE Power Supply: 100-240V input, 24.0V/1A output plugs directly into the power source
Full Product Details
Visit Nest Cam IQ PoE Kit on coolgear.com for detailed information, diagram, and pictures of the Nest Cam IQ Extender Kit with USB-C PD.
About Coolgear
Located in Clearwater Florida, CoolGear Inc. has been developing, manufacturing, and providing premier computer peripherals since 1997. The company's success in providing to Aerospace, Education, and Consumer Industries has launched it into being a number one supplier of industrial serial adapters and USB component products on the Internet today. CoolGear products are shipped worldwide to destinations around the globe while continuing to develop advanced technology, manufacture quality products, and test out new ideas and concepts for computer technology and its advancements. For more information on CoolGear, Inc., please visit https://www.coolgear.com