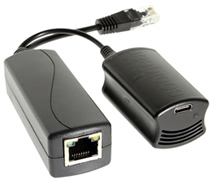 USB type-C, a power solving giant in a little package! Ever since USB-C standards development came about, a method of power delivery has been a sought after method to power USB devices. We are talking about everything from Type-C enabled cell phones to power hungry laptops computers and whatever is in-between using Type-C.
Type-C is not a Loner!
We've found that even the Type-C devices that are meant to distribute power to other Type-C USB devices, (USB power delivery) need a little help. This in no way diminishes the flexibility that USB-C has, it enhances it! We (Coolgear) have incorporated the use of a USB Type-C into our own product design to create a simple and effective power delivery system.
Various designs of our Type-C power pods and power delivery products carry different wattage profiles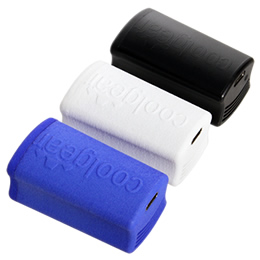 for different applications. Our AC to DC Power Pod design can be used in combination with a PoE splitter to solve power delivery problems. What kind of problems? See Below:
Power outlet accessibility
Power cord or cable length
Office or building security layout and design (camera equipment placement)
Power delivery for charging USB devices
A common PoE problem solving application used is Coolgear's CG-UCPASSPL, the 100M PoE Splitter to Type-C 22W AC to DC Power Pod PD Adapter System (pictured above). It very simply connects a PoE splitter to a PoE injector (power source) to the AC to DC power pod through the use of a Cat5/6 cable. The Cat5/6 cable carries the power from the PoE Injector to the splitter and through the passive power pod adapter to the USB-C port. The power profiles supported have a wide range of 5V/3A, 12V/3A, 14.5V/3A, 20V/2.25A with variable voltage inputs.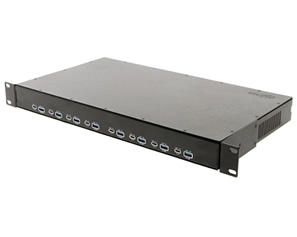 There are other USB PD methods we have developed using USB Type-C technology. Some of these methods for heavy duty use in harsh, industry environments. High power USB Changers! These are not every day, buy them in a store chargers; these are heavy duty, metal, and mountable chargers. These USB Chargers range from 60 watts up to 500 watts with simultaneous port charging from 4 to 20 USB charging ports. With both surface and rack mounting options, these high power USB chargers are meant to withstand the strain of multiple devices pulling power at the same time. In this case, these heavy duty Type-C USB power delivery chargers charge devices such as power hungry laptops, tablets, or more.
Some key Categories on Coolgear to watch for USB Power Solutions: We are adding new products often!
https://www.coolgear.com/product-category/usb-c-products/usb-c-chargers
https://www.coolgear.com/product-category/power-over-ethernet-poe