Move Your Virtual Reality System with USB!
Use USB extension cables to give your friends some room to play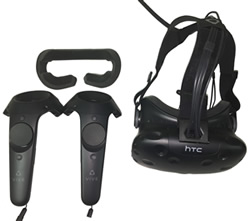 The scene, a virtual reality gaming party in a small game room and not enough room! Have you ever thought, I need to spread out and move the system? Playing VR games in a small room with lots of people waiting for their turn doesn't work to well! Use USB extension cables…
We have extended our Virtual Reality gaming using USB extension cables. We like to have fun once in a while in the office after hours; recently we had some fun with VR gaming in the lab using the Vive headset and controllers. Our setup used everything that the Vive came with but we made some changes so we could set up differently.
We found the USB 2.0 cable and HDMI cable the system came with to be a little too short with regard to the distance we needed to place the Link Box from the computer station. We replaced these cables with a new USB 2.0 A-Male to A-Female extension cable and a new HDMI cable.
Get Your USB Extension Cable
Both cables were flawless but we want to focus on the USB extension cable because we know the HDMI cable already carries the video signal but the USB 2 extension cable carries the data. Our USB 2.0 extension cable is a 30 V, 80 degree, VW-1 high-speed certified at 480Mbps data transfer.
Replacement USB Extension Cable for the Vive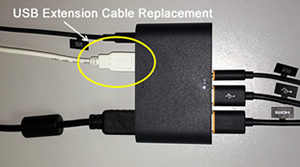 The Vive's Link Box ports are USB 3.0 but it came with a USB 2.0 cable, so that's what we stayed with. The USB extension cables we used in place of the original was a 6ft and 10ft foot length and it worked with no problem, there was no visible lag in the VR data output that we could see while paying with coolness!
For those of you that know USB specifications, you know the length of the connection can only be a maximum of 16 feet 5 inches, so we decided to add a 10 foot USB 2.0 extension cable to the system setup to see what happens. With a longer HDMI cable and a 10ft. USB extension, the output was still phenomenal; we had a great time nearly falling off the virtual stone walls.
USB 2.0 Extension Cable Quality Specs.
No loss of data! The virtual world was extended by a USB extension cable and was still intact continuing with mind blowing visuals as the games went on! Using the original USB cable, we added the 10ft. USB extension which brought us to just under the maximum connection length of a passive USB signal.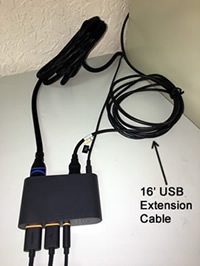 The USB 2.0 Extension Cable Specs:
SKU: USBG-AAE3B
USB 2.0 shielded high-speed cable
28AWG/1P+24AWG/2C E204204
Style 2725 80 degrees 30V VW-1
Gold Plated Male & Female Connectors
Molded strain relief
USBGear brand
The USB 2.0 extension cable allowed us to move the Vive's Link Box to different locations away from the PC which gave use more movement with the Vive headset. As you can see from the images above, the VR headset and component outputs are connected to the opposite side of the Link Box and are fixed lengths, we worked with the PC side of things.
Below, our favorite sales rep Ashley is enjoying some relaxation time with our USB extended Vive virtual reality game system. We hope that this information has been helpful, moving your VR equipment if it needs to be moved is best done with a USB extension cable!