The 3D printed Din Rail Clip by CoolGear
As a technology company, CoolGear is always looking for a new way in providing products for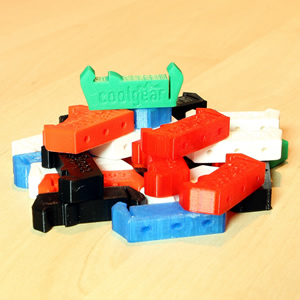 our customers. With that said, CoolGear proudly announces its "in-house" 3D printed Din Rail Clips! The Din rail clips are plastic, printed with a Polylactide material which is environmentally friendly and tough enough to last for years.
Our 3D printed Din rail mounting clips are ready to work with the standard 35mm Din rail with either 7.5 or 15mm depths. Working beyond expectations, our new clips work with many of our hubs and adapters. The new clips are printed to a 10mm thickness with 3 screw holes for mounting. The Din rails will ship in a package of 2 with 6 thread forming screws.
Wait, there's more! If you have a 3D printer, you'll like this; CoolGear will be providing the .STL file available free to anyone wishing to 3D print their own Din rail clips. Keep an eye on CoolGear, these Din rail clips will be on our website soon!