Introduction:
The CG-10PU3MGD from our MDS-UH Port Management Series is a managed USB 3.2 Gen 1 (commonly called USB3.0) hub which is designed to provide rich unique features for industrial applications. It provides an instant expansion of 10 USB3.2 Gen 1 downstream facing ports and keeps the excellent reliability and compatibility with all USB 3.2 Gen 1, USB 2.0 and 1.1 existing devices.
The hub complies with the Universal Serial Bus (USB) Specifications Revision 3.1 Gen 1 and works up to 5Gbps. It accepts wide range input power from 7~24 VDC. Its downstream facing ports support USB Battery Charging Specification v1.2 (SDP, CDP, DCP) as well as some Vendor Specific Charging Modes e.g. Apple 2.4A , Samsung.
The CG-10PU3MGD is supplied with managing software utilities which can turn on/off the bus power of each downstream device or even reset the entire hub. It also can save the designated state to its flash memory and read it back as the initial state of its next power up cycle. Different utilities were supported for different operating systems such as Windows, Intel x86-64 and ARM based Linux.
Since the USB is the most popular and scalable expansion bus for the modern computers. With the integrated software and hardware support, the CG-10PU3MGD provides an ideal solution to add your USB devices and value immediately and save your investment.
Managing Software:
The CG-10PU3MGD software package contains several managing software utilities which support different platforms allowing better control over each individual ports' status. A GUI (Graphical User Interface) and console command prompt utilities for all major Microsoft Windows. It also includes utilities for different Linux versions. The utilities were written to easily operate with the applications software written with different language such as C#, C++, VB, Python or even a PHP server scripting language.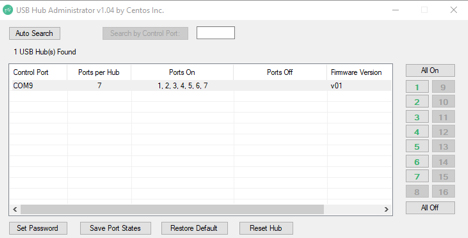 Image: Port managing software displaying the On/Off status of each port.
Specifications:
USB Host
Operable with USB 3.2 Gen 1, 2, and USB2.0 host
USB Interface
Compliance: USB 3.2 Gen 1 / 2.0 / 1.1 compliant
Upstream: 1 USB port, Type B connector, Screw-lock type
Downstream: 10 USB ports, Type A connectors, Screw-lock type
LED Indicators: 10 LEDs for each downstream port to indicate the current bus power states
Speed: 5Gbps (Super-speed), 480Mbps (High speed), 12Mbps (Full-speed) and 1.5Mbps (Low-speed)
Supply Current: 1.5A max. per channel
Note: The last USB port of this hub (Port 10) does NOT support USB 2.0 / 1.1 devices. It is used to communicate with managing utilities. However, it still supports USB 3.2 Gen 1 devices.
Managing Software Utilities
USBCTL: Windows GUI
CUSBC: Windows console command control utility
cusbi: intel x86-64 based Linux control utility
cusba: ARM based Linux controller utility
Physical Characteristics
Housing: SECC (galvanized steel)
Weight: (product only) 360g (0.79 lb)
Dimensions (LxWxH): 197.7×55.5×31.0 mm (7.78 x 2.18 x 1.22 in)
Environmental Limits
Operating Temperature: 0 to 60°C (32 to 140°F)
Storage Temperature: Standard Models: -20 to 75°C (-4 to 167°F)
Ambient Relative Humidity: 5 to 95% (non-condensing)
Altitude: Up to 2000 m
Power Requirements
Input Voltage: 7 to 24 VDC external power
Power Consumption: 10mA @ 12 VDC, 20mA @ 24 VDC
Package Contents:
10 Port Managed USB 3.2 Gen 1 Hub
5ft. USB-A to Screw Lock USB-B Cable
2-Pin Terminal Block
DIN Rail Clips
Screw Pack
*Surface Mounting screws not included.