Also available from the following online retailers:
The USBG3-3X4M USB 3.0 4-Port Industrial hub with power supply provides 4 downstream facing ports with standard Type-A USB 3.0 connectors. It supports screw-lock features for both upstream (USB type B) and downstream (USB type A) connectors with the screw-lock USB cables. The screw-lock features are a preventative measure against accidental disconnection from the USB cables and hub.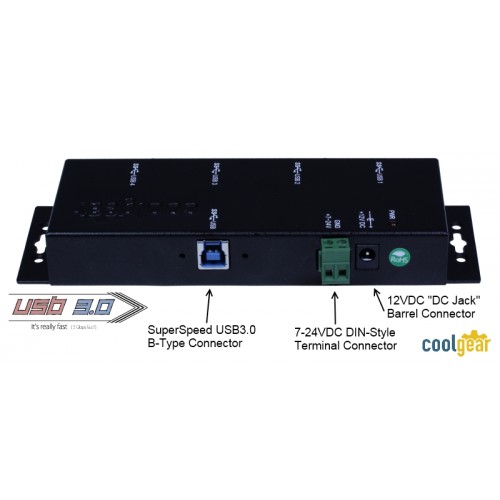 With built-in single chip USB 3.0 controller, it is backward compatible either when any one of downstream port is connected to an USB 1.1 or USB 2.0 compliant device, or when the upstream port is connected to a USB 1.1 or USB 3.0 compliant host.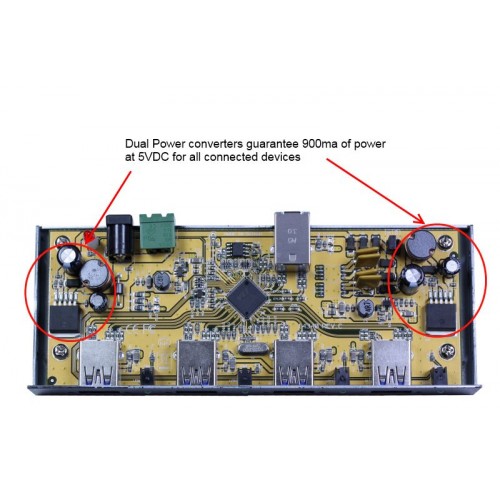 The USBG-3X4M USB 3.0 4-Port Industrial hub design incorporates dual power conversion systems. This allows the hub to provide the USB 3.0 specification maximum of 900ma current on each port. There is no other USB 3.0 hub currently on the market that can provide this much power to all connected devices, simultaneously.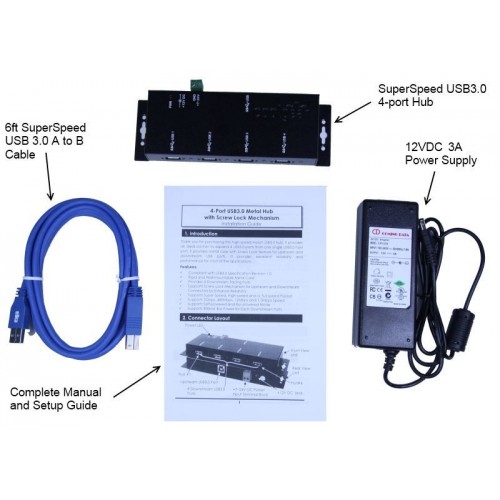 Package Contents (pictured above):
SuperSpeed USB 3.0 Hub
1x USB 3.0 A to B cable (non-Screw Lock)
1x 12VDC 3A Power Supply
1x User Guide
Additional Features:
Compliant with USB 3.0 Specification Revision 1.0
Rigid and Wall-mountable metal case
Provides 4 Downstream ports
Supports Screw Lock Mechanism for Upstream and Downstream connectors to enhance reliability
Supports SuperSpeed, High-Speed, and Full-Speed (USB 3.0, 2.0, and 1.1)
Supports Self-powered and Bus-powered modes.
Supports 900MA Buss Power for each Downstream Port (When using external power supply).
Product Dimensions: 6.013in(L) 7.013 (w/flange) x 2.350(W) x .955in(H)
OS Support:
Windows XP, 2000, 2003, CE, Vista, Windows 7, 8, and Windows 10
Linux and Mac OS 10.X
Environmental Specification:
Operating Temp: 0 to 55°C (32 to 131°F)
Operating Humidity: 5 to 95% RH