Also available from the following online retailers:
This 4-Port USB to Serial RS-232 Adapter provides an external Plug-and-Play solution to add up to four RS-232 serial devices to a USB-Enabled computer. Many newer computers, particularly laptop computers and handheld devices, no longer include the legacy serial ports, and desktop computers have reduced the number of serial ports supported. This serial adapter is supported by Windows 10.

Users with serial devices may find themselves unable to communicate with installed equipment. The 4-Port USB to Serial Adapter is a great solution for connecting those legacy devices to a new computer. The four DB-9 serial ports ensure you'll have the connections you need, when you need them. The USB to Serial Adapter can be conveniently powered by the external power adapter (not-included) or by USB bus power without the need for an external power supply. Energy-saving USB suspend-and-resume features are supported.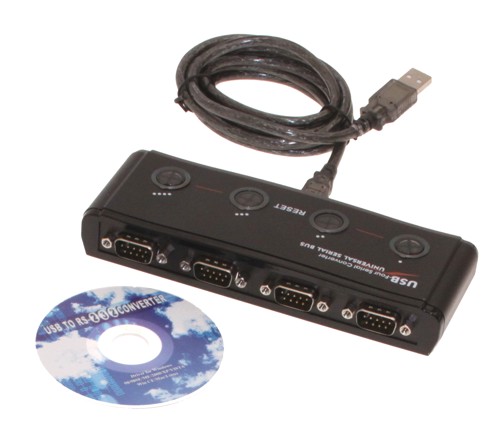 Additional Features & Specifications:
Serial Interface: RS-232
Data rate speed range: 300 bps to 230,400 bps
Free your computer's RS-232 port for other uses
Aluminum housing provides a robust solution
Supports automatic handshake mode
Supports remote wakeup and power management
Data Transfer Speed: 12/1.5 Mbps USB 1.1 compliant
Supported by Windows 10
Connectors:
Input: One USB Type B Female
Output: Four DB-9 Male Maximum Speed 230K per port.
Power Mode: Bus Powered or External Power Adapter
Cable Length: 1.8m
System Requirements:
A PC running Windows 98SE, ME, 2000, XP, or Vista, Windows 7 or 8, and 10
Mac OS-8.6 and higher, or Linux USB-enabled computer.
Package Contents:
SerialStuff 4-Port USB to Serial RS-232 Adapter
3ft. USB A to B Cable User's Manual (on CD)