The USBG-IPcom-113 Industrial 1 Port DB9 RS-232/422/485 Serial over RJ45 Device Server is designed to add  1 serial port over 10/100/1000Mbps Ethernet network running TCP/IP.
Connecting an Adapter to the Ethernet port on the computer or router, running the Manager Utility software, you can add a virtual COM port to your PC. The serial port functions as a native Windows COM port and is compatible with Windows serial communication applications.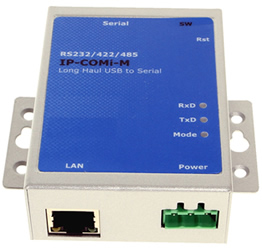 The Virtual COM port is installed in the Device Manager of the operating system. This in turn will allow communications with the connected serial device in the same manner as a device connected to the COM port on a PC. The serial port supports high serial speeds up to 921.6Kbps in RS-232 mode. The LAN becomes transparent to the serial device and the software running on the PC.
The Adapter supports multiple users and multiple tasks operation over the same network. Plugging the Adapter to a network of multiple users, all of them may use the high speed RS-232/422/485 serial port of the Adapter.
The serial port can be installed 100 meters away from the host. To further extend communication distance, the adapter supports extend mode by adding a switching hub between your computer and the Adapter to extend the distance by another 100 meters. Extra switching hubs can be added in between to increase the distance further.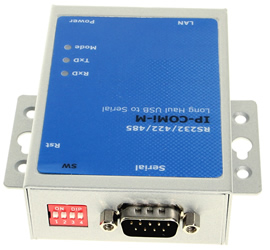 Extends serial communication distance.

Allows the serial device to communication over a LAN or Intranet network

Supports multiple users and multiple tasks operation over LAN.

Supports multiple function serial port RS-232/422/485 over LAN.

Installed as standard Windows COM port

Provides virtual COM port same as on board COM port.

Access and monitor serial devices over a Manager Utility interface software.

RS-422 data signals: Tx-, Tx+, Rx+, Rx-, GND, RTS-, RTS+, CTS+, CTS-

RS-485 data signals: Tx-, Tx+, Rx+, Rx- (4 wire), and data-, data+ (2 wire)

Industrial metal case with DIN rail mounting brackets.

Supports wide input power range: DC 9V ~ DC 35V.

High speed serial port with the baud rate up to 921.6K bps

Non-standard baudrates supported

LEDs of Power, TxD and RxD for easy port monitoring and diagnostics

Supports Windows 10, 8, 7, Vista, 2003, XP

Item Dimensions: 3.28(L) x 2.436(W) x 1.08in(H)
OS Support:
Windows 10, 8, 7, Vista, 2003, XP
Linux and Mac OS 10.X
Package Contents
Single port RS232/422/485 serial adapter
Power adapter
Driver Disc