The CG-4X232 is a Quad Port USB to Serial RS-232 Adapter and is perfect for laptop and desktop users in need of adding more serial communication ports. It is light-weight and compact, this device is also fully Plug-and-Play compatible, which provides you with the flexibility of hot swapping your RS-232  serial devices without rebooting or configuring. Expand your PC or Notebook computer by using this Quad Port USB to Serial RS-232 Converter. Gain more control over your current serial devices through your USB technology. Small and convenient, the USB serial RS-232 4-port converter can enable and expand your peripheral usage many times over.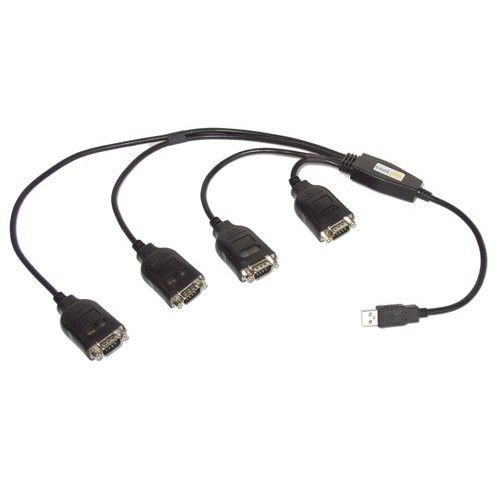 How the USB to Serial dual port RS-232 converter works:   
The Quad-Port USB to Serial converter with Prolific USB Technology allows the use and operation of four serial devices via USB control simultaneously. The USB serial 4-port converter is self powered through the host USB port that it's connected to. The USB serial quad-port converter adds 4 additional RS-232 serial ports to you PC or Laptop as seen in the images above.
To install the device on your computer, first insert the converter driver CD into your CD-ROM drive and install the drivers. After the drivers have been installed, connect the USB to RS-232 serial converter to your USB Port. The new hardware wizard in Windows after connecting the USB serial rs232 converter to the USB port should automatically recognize the new hardware. You will see the new hardware wizard several times as it must install the driver for each of the RS-232 serial ports to function properly with the USB port. You will see that the prolific USB serial bridge drivers will be installed for each new piece of hardware found.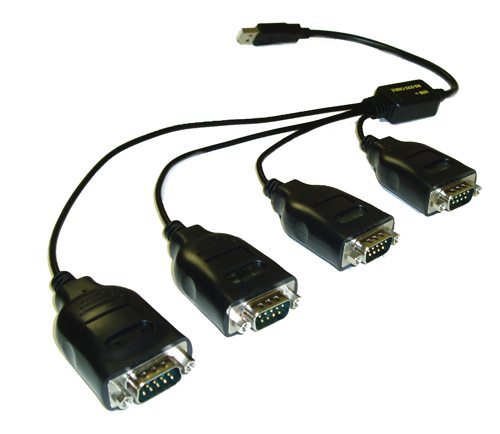 NOTE:  If for some reason the USB to serial converter is not recognized after connection, try rebooting your PC or laptop or manually adding the hardware through Add New Hardware Wizard.
Additional Features & Specifications
Adds four RS-232 serial port by connecting to USB port
Installed as standard Windows COM ports
Full RS-232 modem control signals
Prolific Chipset
RS-232 data signals: TxD, RxD, RTS, CTS, DSR, DTR, DCD, RI, GND
Serial ports speed up to 921.6K bps
Four DB9 male connectors
Bus-powered
System requirements:
USB host port of 500 mA.
Easy plug & play installation and RS-232 device connection
Works with USB 1.1 & 2.0 host port
SECC sheet metal chassis with DIN rail bracket
OS Support:
Windows 98, Me, XP, 2000, 2003, CE, Vista, Windows 7, and Windows 8
Linux and Mac OS 10.X