Also available from the following online retailers:
The CG-4SCBH QUAD-Port Serial RS-232 PCMCIA Adapter set allows the use of multiple serial devices via CardBus control and is self powered by the PCMCIA card slot it's connected to. The PCMCIA Quad-Port Serial RS-232 adapter offers flexibility of connections and simultaneous usage of all ports at any one time.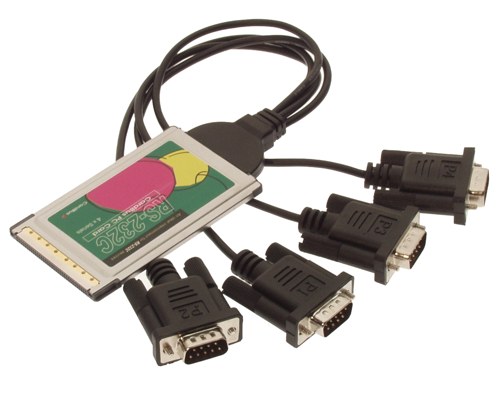 The 4 Port Serial RS-232 PCMCIA Adapter is compact in size and low in power requirements to support the major serial portable devices. The UARTs are the newest generation of the 16C950. It is equipped with a 128-byte deep data FIFO and auto-flow control features to speed up the data transfer to 115.2Kbps without the under-run and over-run problems. The ultra high-speed model is available for up to 4Mbps.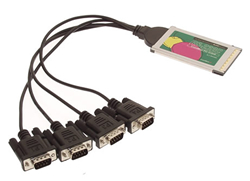 Additional Features & Specifications:
Fully Plug & Play compliant, compatible with 32-bit Type-II Slot Notebooks
CardBus Type-II Burst Mode Up to 133MB/S.
4 RS-232 Serial Ports with a DB9MX4 Cable.
128 byte 16C950 Deep FIFO UARTs, 16C550 compatible.
Automated in-band flow control using programmable Xon/Xoff characters.
OS Support:
Windows 98, Me, XP, 2000, 2003, CE, Vista, Windows 7, and Windows 8
Linux and Mac OS 10.X