USB-COMiPLUS Product Description
Also available from the following online retailers:
The USB-COMiPLUS USB 2.0 Industrial Adapter allows you to add one RS-232, RS-422 or RS-485 serial port by connecting to a USB port. The upper case on the device slides open for adjusting the mode settings from RS-232, RS-422, RS-485, the device is user selectable. Once the drivers are installed and the device is plugged in, it will be installed as a standard COM port on your computer.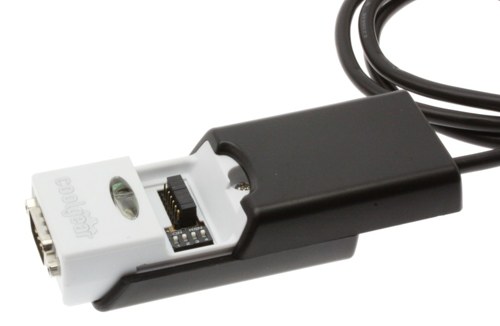 Additional Features:
Adds one RS-232 serial port by connecting to a USB port
One DB9 male connector
Optional feature to supply power output of DC 5V through PIN-9 of DB9 male to the serial devices requiring power
Optional feature to supply power output of 5V, 200mA – upper case by sliding open for easy to supply DC 5V power
Installed as standard Windows COM port
Full RS-232 modem control signals and hardware/software flow control
RS-232 data signals: TxD, RxD, RTS, CTS, DSR, DTR, DCD, RI, GND
RS-232 data signals with DC 5V: TxD, RxD, RTS, CTS, DSR, DTR, DCD, DC 5V, GND
High speed serial port with the baud rate up to 921.6K bps
Non-standard baudrates supported
LEDs of Power, TxD and RxD for easy port monitoring and diagnostic
Serial port protected with surge protection of 10KV
Powered by USB port, no external power adapter required
Easy plug and play installation and RS-232 device connection
COM port number assigned can be changed to any COM port number required
Works with USB 1.1 & 2.0 host port
OS Support:
Windows XP, Vista, Windows 7, Windows 8, and Windows 10
Linux and Mac OS 10.X