CoolGear 3D printed Din Rail Clip
CoolGear has developed its own Din rail clip that is 3D printed in-house. The Din rail clips fit the standard 35mm Din Rail with either 7.5 or 15mm depths.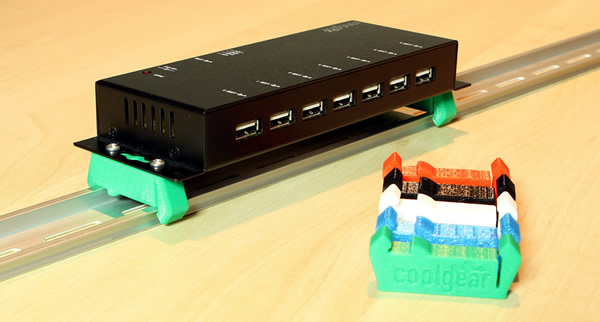 The Din Rail clips are designed to work with many of the Din rail mount capable hubs and serial adapters that are sold on CoolGear. The clips are made from the 3D printing material Polylactide, an environmentally safe and strong material that will last for years!
These new clips are printed to a 10mm thickness with 3 mounting holes and will ship in a package of two including 6 thread forming screws. The overall dimensions for the clips are: 46.6(L) x 10.25(W) x 18.8mm(H) and come in various colors.
Colors
Green
Red
Blue
Black
White
Although CoolGear is selling these Din rail clips, that doesn't mean you can't print them yourselves, so don't push your 3D printers aside! We will be providing the files necessary for you to print your own din rail clips!