Introduction:
CG-7PU3MGD from our MDS-UH Port Management Series is a USB3.2 Gen 1 Hub that complies with the Universal Serial Bus (USB) Specifications Revision 3.1 Gen 1 and works up to 5Gbps. It provides 7 downstream facing ports with standard A-type USB3.2 screw-lock connectors.
The CG-7PU3MGD provides a unique self-power mode to work with a wide range (+7~48V) input DC power from its terminal blocks. It supports USB charging specifications by turning its downstream ports from a Standard Downstream Port (SDP) into Charging Downstream Port (CDP) or Dedicated Charging Ports (DCP).
Since the USB is the most popular external port for the devices to connect to PCs, the CG-7PU3MGD provides an ideal solution to expand your USB ports immediately and save your investment.
Managing Software:
The CG-7PU3MGD software package contains several managing software utilities that support different platforms allowing better control over each individual ports' status. A GUI (Graphical User Interface) and console command prompt utilities for all major Microsoft Windows. It also includes utilities for different Linux versions. The utilities were written to easily operate with the applications software written with different language such as C#, C++, VB, Python, or even a PHP server scripting language.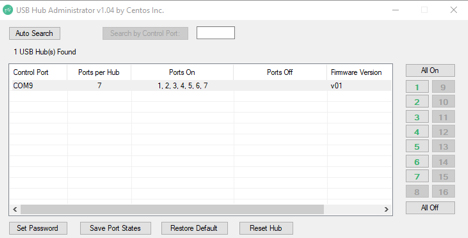 Image: Port managing software displaying the On/Off status of each port.
Features:
Compliant with USB Specification 3.2 Gen 1
Metal Case with DIN RAIL Mounting Kit for
Industrial Critical Applications
Built-in RISC-like USB3.2 Gen 1 Hub Controllers
Provides 7 Downstream USB 3.2 Gen 1 Facing Ports
Supports 5Gbps (Super-speed), 480Mbps (High-speed),
12Mbps (Full-speed) and 1.5Mbps (Low-speed) Speed
Supports 15KV ESD Surge Protection for Each Port
Supports +7~48V DC Wide Range Self-power Input
Multi Transaction Translators (TT) per Hub
Support USB Battery Charging: CDP and DCP modes
Supports Push-In, Screw-Lock Power Terminal Blocks
DC Jack and Terminal Blocks Power Input Connectors
Supports USB Screw-Lock Cable Mechanism
Note: The last USB port of this hub (Port 7) does NOT support USB 2.0 / 1.1 devices. It is used to communicate with managing utilities. However, it still supports USB 3.2 Gen 1 devices.
Package Contents:
7 Port Managed USB 3.2 Gen 1 Hub
5ft. USB-A to Screw Lock USB-B Cable
2-Pin Terminal Block
DIN Rail Clips
Screw Pack
*Surface Mounting screws not included.