Type-C USB Charger Station – Charging Only!
The USB12CCS Type-C USB charging station is the first of its kind to charge USB devices where the charging station itself is Type-C enabled! It's a great solution for quickly charging up to 12 devices, automatically re-charges once the device's power has been 90% consumed
USB Type-C Charging Only
This charging station is a charge only device with red LED indicators for connection and LCM display to show the selected port, scanning time, charging status and output current. Selection buttons allow you to choose which connected charging port to display information for.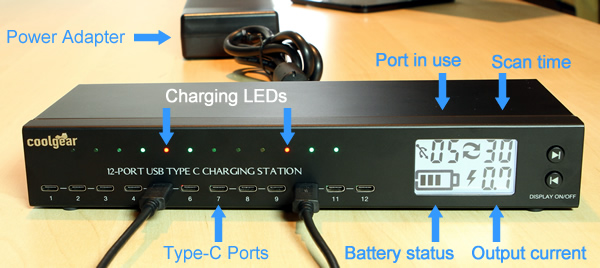 The USB12CCS detects the power current of each port with a sensing meter built into the firmware of the device. The charging station can be rack mounted with its included mounting brackets and screws. The Type-C USB charging station features are listed below:
Type-C USB Charging Station Features
Supports Downstream Facing Port (DFP).
Compliant with USB Type C Spec 1.2 & USB Battery Charging Spec 1.2
Enables to provide up to 5V 3A (USB Type C Current Mode) output current on each port; Supports MacBook, the iOS, Android devices.
Intelligently detects the power current of each port by the sensing meter with firmware. Supports charging 12 devices at a time. Enables to divide the 12 ports into 4 groups; allows 1 group (3 ports) to be charging at a time. When all the charging ports are fully charged, the unit would cut off all the output current and turn to sleep immediately.
Provides Auto Scan monitoring; default setting: scans one port at every 30 seconds.
The rear fans spec: SUNON Vapo DC Fan; Life Expectancy: 60,000 hours
Enables to start/cut off the fans automatically according to the temperatures setup. If the board's temperature is higher than the setting, it would start the fans automatically. On the contrary, if the board's temperature is lower from the setting, it would cut off the fans automatically as well.
Supports Over-Current Protection and ±15kV (air), ±8kV (contact) ESD protection on each port.
Supports 40A (5/50ns) & Peak Pulse Power 250 W (8/20 us) Surge and Transient spikes protection on each port.
For the High-temp protection, if the unit's high temperature is over the setting, it would cut off all the output current immediately. At the mean time, the whole LEDs of the 12 ports would be green blinking.
Dimensions: 268mm(L) x 102mm(W) x 40mm(H)