Compact, Mountable USB 3.2 Gen 1 4 Port Hub
USB 3.2 Gen 1powered hub with industrial-grade chassis and surface mounting flanges. The CG-U3MINI4P-BPH is a 5V DC input, generation 1 USB 3.2 hub with ESD and Surge protection. This USB 3.2 Gen 1 Hub will support fast charging for Apple and Samsung devices. Each port is protected individually to help keep your peripherals safe. The USB USB 3.2 Gen 1 Hub uses a GL 3510 chip, each port is on an individual circuit to maintain high current and protection. The GL3510 Hub controller chip features native fast-charging and complies with USB-IF battery charging specification rev1.2.
Connect up to 4 USB devices and peripherals to your computer or laptop.
Surface Mount or mount to a DIN rail in harsh industrial environments such as factories or warehouses.
Add 4 fast-charging, data-communicating USB ports for ease-of-access for locations otherwise hard to access.
Compliant with USB 3.1 Gen 1 Specifications
Upstream port supports Super-Speed (SS), High-Speed (HS) and Full-Speed (FS) traffic
Downstream ports support SS, HS, FS, and Low-Speed (LS) traffic
1 control pipe and 1 interrupt pipe
Backward compatible to USB specification Revision 2.0/1.1
Compliant with USB Battery Charging Revision v1.2, supporting CDP, DCP, and ACA-Dock
Downstream ports can be turned from a Standard Downstream Port (SDP) into Charging Downstream Port (CDP) or Dedicated Charging Port (DCP)
Downstream devices can be charged while upstream VBUS is not present, which can be applied on wall charger applications
Upstream port is capable of charging and data communicating simultaneously for portable devices supporting ACA-Dock or proprietary charging protocols
Compatible with Windows XP, 7, 8,10, and Mac OS X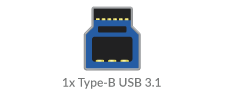 USB USB 3.2 Gen 1 4-Port Hub
3ft. USB A to B Cable for Hub
*POWER SUPPLY & SURFACE MOUNTING SCREWS NOT INCLUDED