USB 3 Hub 350 Watt Surge Protection; Also Syncs and Charges Simultaneously
The USB 3 Hub (USB3-16U1) with 16 ports features (16) Type-A downstream port connectors for USB 3.0, USB 2, USB 1.1 devices. All ports support Sync and Charge functions simultaneously, standard and screw-lock type USB cables for a secure connection. The 2-Pin self power input connector uses 1 pin for positive voltage and the other pin for a GND connection. The USB 3 Hub terminal block connector is used to connect strong power in order to self-power the hub (Power supply not included). The voltage can be in the range from +12V to 24V DC.
There are 2 Type-B upstream connectors on the 16 Port USB 3 Hub that offer a selectable rocker switch. Either Port A or Port B can be used to control the downstream ports on the device. Both ports can be connected to a host or another USB 3.0 Hub. These connectors support standard and screw-lock type USB cables.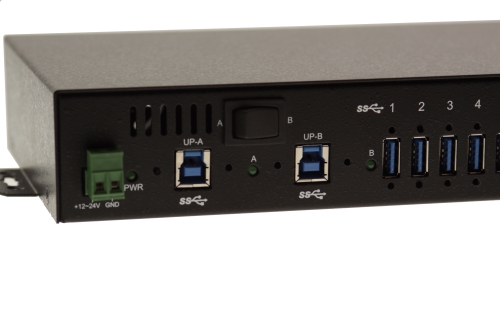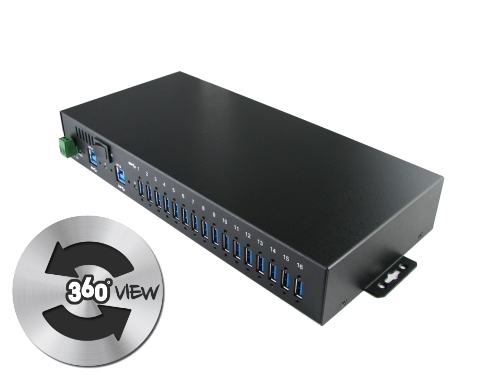 Additional Features & Specifications:
Compliant with USB specification Revision 3.0
Sync and Charges Simultaneously through Type-A ports
Rigid and Wall-Mountable metal case
Provides 2 selectable upstream and 16 downstream USB 3.0 facing ports
Supports 5Gbps (super-speed), 480MBps (high-speed), 12Mbps (full-speed) and 1.5Mbps (low-speed)
Supports 16 Port 350 Watt Surge Protection
Multi Transaction Translators (TT) per hub
Supports USB Screw-Lock cable mechanism
Supports DIN-Rail mounting kit
Rack Mount Brackets available***
Package Contents:
USB3-16U1 16 Port USB 3 Hub (Does not include power supply)
1pc. 6ft. USB 2.0 certified cable type "A" to "B"
Mounting Brackets
Din-Rail Clips
OS Support:
Windows XP, 2000, 2003, Vista, Windows 7, 8, Windows 10
Linux and Mac OS 10.X
Operating Temperature:
0° to 55° C (32° to 131° F)
Operating Humidity:
Dimensions:
12.15" (L) x5.12" (W) x1.74" (H)
(30.85 x 13.02 x 4.42 cm)
Package Contents
16 Port USB 3.0 Hub
Rack mounting brackets and screws
Din Rail Clips and screws
USB 3.0 A to B cable
Paper installation manual
*Power Supply not included; available as an optional accessory: Model# 12V7A2P-B