USB PD Integrator 160W (Max) Circuit Board
Coolgear Labs USB PD Integrator design for high power 160W charging applications. It's wide range of USB power delivery voltages are from 5V up to 20V. The USB-C port voltage and current are rated up to 41.4 watts per USB-C port.
We have designed this board with an Injoinic chip for Type-C USB PD charging and high demand needs. This makes it an EXCELLENT choice for USB-C device charging applications!
PDO Report for Type-C Port Output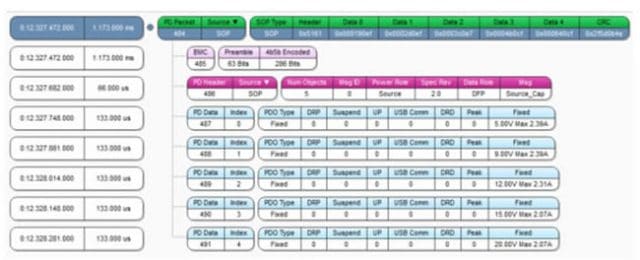 NOTE: This integrator board is meant to operate at a maximum of 160W total, exceeding this power range may cause damage to the board and or your devices. The following PD profile apply to this board.
USB-C Power Delivery voltages range from 5V, 2.39A | 9V, 2.39A | 12V, 2.31A | 15V, 2.07A | 20V, 2.07A.
Power Connector and Wire Schematic

Applications

Multi port device charging applications using USB Type-C Power Delivery.
Laptop charging carts, cases and systems.
HP, Dell, Asus, Apple MacBook or Chromebook computers.
Retail displays for the latest USB type C devices.
USB PD Integrator Board Features & Benefits
Works with ALL USB PD Devices.
4x Downstream USB Type-C Power Delivery ports supporting up to 41.4W per port.
Can charge 4 Apple MacBook's, Chromebook's or other USB Type-C PD power hungry products.
Supports all USB-PD Power Delivery voltages from 5V, 2.39A | 9V, 2.39A | 12V, 2.31A | 15V, 2.07A | 20V, 2.07A.
Supports USB-PD, SDP, CDP, DCP, BC1.x, SE1, Apple, Samsung, ACA-x, YD/T-1591, RIM etc.
Item Dimensions: 6.86(L) x 2.38(W) x .603in(H To the top of power connector)
Product Safety
Over-voltage protection.
Over-current protection.
Over-temperature protection.
Environmental & Operation Ratings
Operating Temperature: 0 to 55 Degrees Celsius.
Relative humidity: 5% to 95% non-condensing
DC Input: 24V
Package Contents
160W high power charging integrator board only