The USB-8COMi-RM 8 Port USB to RS-232/422/485 Serial Adapter is designed to make serial port expansion for industrial applications convienent and fast. Whether it's connecting to a computer's host USB port or USB hub, the 8 Port USB Serial Adapter instantly Adds eight RS-232, or RS-422, or RS-485 serial communication ports to your system using Plug-and-Play technology.
By connecting the 8 Port USB Serial Adapter to your computer, the adapter is automatically detected and installed with no IRQ & COM port conflicts or configuration since the ports do not require any additional IRQ, DMA, memory. The adapter is self-powered, and has built-in switching power supply of 100V/240V (input) inside the chassis.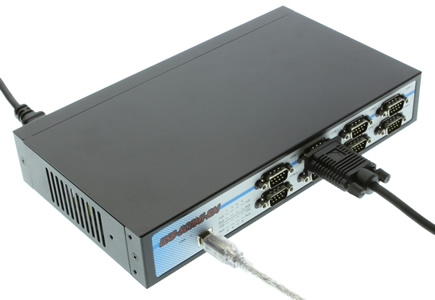 The USB-8COMi-RM serial adapter is designed with 8 external 4-pin dip switches to independently set RS-232, RS-422or RS-485 mode conveniently, without the need to open the metal chassis. The adapter is with DIN rail bracket for industrial application environments and can be also mounted to a 19 rack, the rack mount kits are included with the adapter.
Termination and biasing option are available for data transmission lines. The USB-to-Octal RS-232/422/485 Adapter provides instant connectivity to RS-232, RS-422, RS-485 communication devices for POS, factory automation equipment, multi-drop data collection devices, bar code readers, time clocks, scales, data entry terminals, PC to PC long distance communications, ATMs and serial communication in harsh environments.
The USB-8COMi-RM USB to Industrial I/O provides industrial solution requiring single node or multi-drop communications over short and long distance.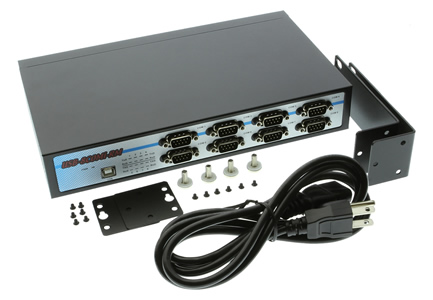 Additional Features:
Adds eight RS-232, RS-422 or RS-485 serial ports by connecting to a USB port
No need to open chassis to set operation modes-eight external DIP switches for easy RS-232, RS-422, RS-485 mode settings
Installed as standard Windows COM port
SECC metal chassis with both DIN rail brackets and rack-mounting kits for flexible mounting
Full RS-232 modem control signals and hardware/software flow control
RS-232 data signals: TxD, RxD, RTS, CTS, DSR, DTR, DCD, RI, GND
RS-422 data signals: TxD-, TxD+, RxD+, RxD-, GND, RTS-, RTS+, CTS+, CTS-
RS-485 4-wire data signals: TxD-, TxD+, RxD+, RxD-
RS-485 2-wire data signals: Data-, Data+
Automatic transmit and receive control for 2-wire RS-485 half-duplex mode
Built-in termination and biasing
High speed serial port with the baud rate up to 921.6K bps
Non-standard baudrates supported
LEDs of Power, TxD and RxD for easy port monitoring and diagnostics
Serial port protected with surge protection of 10KV
Built-in switching power supply of 100V~240V
Easy plug and play installation and RS-232/RS-422/RS-485 device connection
COM port number assigned can be changed to any COM port number required
Works with USB 1.1 & 2.0 host port
Item Dimensions: 10.11(L) x 5.80(W) x 1.73in(H)
OS Support:
Windows Windows 7, Windows 8, and Windows 10
Linux and Mac OS 10.X
Package Contents
1x 8 Port USB to RS-232/422/485 Octal Serial Adapter
1x Mounting Brackets
1x DiN Rail Brackets
1x 3ft. USB-A to B Device Cable
1x Three Prong Power Cord
1x Driver Disk