The USB-COMi-TB USB to RS-422 485 Industrial Single Adapter is designed to make industrial communication port expansion quick and simple. Adapting the new technology, the industrial I/O communication port expansion now takes the new bus with easy and convenient connectivity.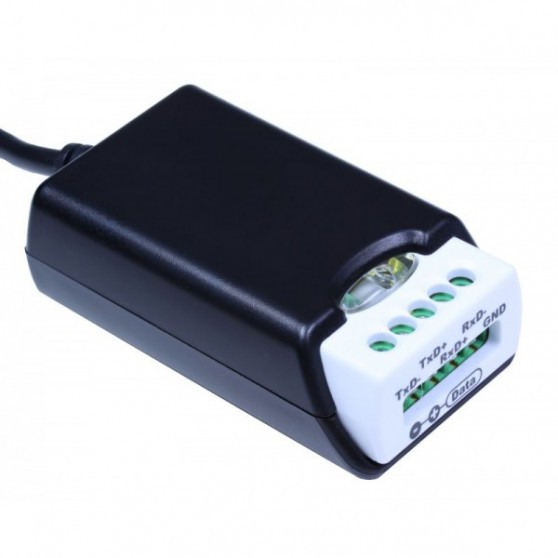 In connecting the USB-COMi-TB to an available USB port, the adapter is automatically detected and installed as a standard COM port. There are no IRQ & COM port conflicts, since the port doesn't require any additional IRQ, DMA, memory as resources on the system. The USB to RS-422 /485 port functions as native Windows COM port, and it is compatible with Windows serial communication applications.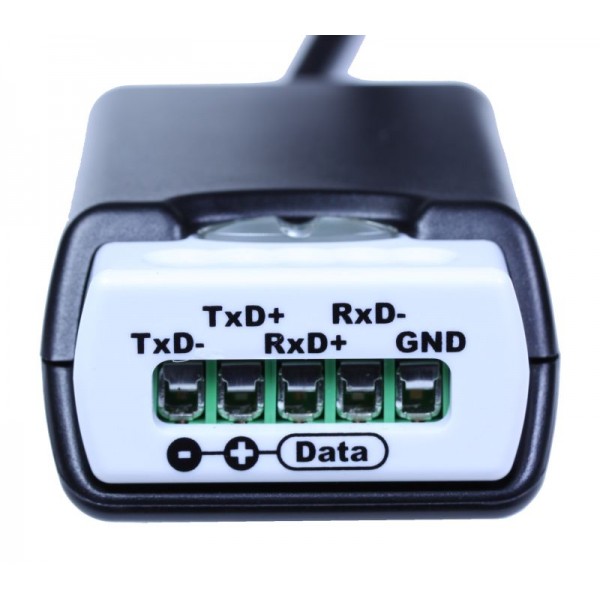 The Hi-Speed USB Industrial I/O Adapter provides instant connectivity to RS-422 or RS-485 communication devices for factory automation equipment, multi-drop data collection devices, barcode readers, time clocks, scales , data entry terminals, PC to PC long distance communications and serial communication in harsh environments. The USB Industrial I/O provides industrial solution for applications requiring single node or multi-drop communications over short and long distance.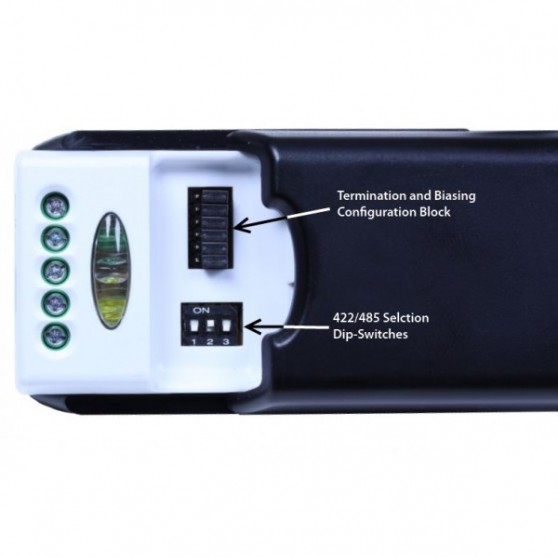 Additional Features:
Hardware Specifications:
Adds one RS-422 or RS-485 serial port by connecting to a USB port
One 5-pin terminal block connector for easy wiring
No need to open chassis to set operation modes-upper case can be sliding open for easy RS-422, RS-485 mode settings
Installed as standard Windows COM port
RS-422 data signals: TxD-, TxD+, RxD+, RxD-, GND, RTS-, RTS+, CTS+, CTS-
RS-485 4-wire data signals: TxD-, TxD+, RxD+, RxD-
RS-485 2-wire data signals: Data-, Data+
Automatic transmit and receive control for 2-wire RS-485 half-duplex mode
Built-in termination and biasing
High speed serial port with baud rate up to 921.6K bps
Non-standard baudrates supported
LEDs of Power, TxD and RxD for easy port monitoring and diagnostic
Serial port protected with surge protection of 10KV
Powered by USB port, no external power adapter required
Easy plug and play installation and RS-422/485 device connection
COM port number assigned can be changed to any COM port number required
Works with USB 1.1 & 2.0 host port
Item Dimensions: 2.87(L) x 1.77(W) x .957in(H)
Length: 3ft.
Operation Mode
S1
S2
S3
RS-422
4 wire with Handshaking
OFF
ON
OFF
RS-485
Full Duplex (4 wire)
ON
ON
OFF
Half Duplex (2 wire)
– with Echo
ON
OFF
OFF
Half Duplex (2 wire)
– without Echo
ON
OFF
ON
OS Support:
Windows XP, Vista, Windows 7, Windows 8, and Windows 10
Linux and Mac OS 10.X
Package Contents
Single Port USB to RS-422 485 Adapter
Driver Disc