Product Description
Also available from the following online retailers:
With both USB and Serial technology used together, further use of existing RS-422 and RS-485 devices can be utilized to enable the addition of more serial ports, This is USB to RS-422 serial adaption. This combination offer expansion even when the computer doesn't offer serial ports. The high speed 128 byte FIFO USB to RS-422 / RS-485 serial port converter is extremely sturdy construction perfect for integrating with your system/application. With its unique features contained within its metal case the USB-8COMi-M can reduce the system load and produce unusual speed settings like 500.000bps.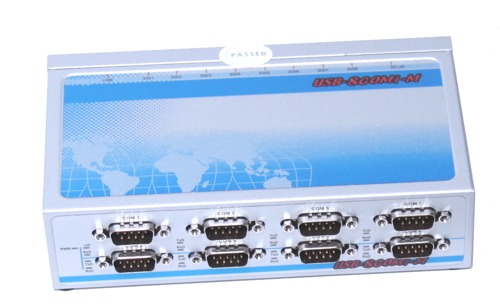 The USB-8COMi-M is a self-powered USB to RS-422 serial adapter device, but it also includes a 5V / 2Amp power supply for applications with high power consumption needs. This device offers Plug-and-Play installation features and RS-422/RS-485 device connection. Serial signal operation modes are selected by the eight DIP switches located externally for easy RS-422, RS-485 communication.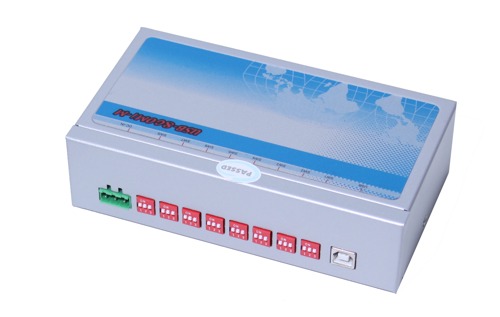 Additional Features:
Installed as standard Windows COM port
SECC metal chassis with DIN rail bracket
RS-422 data signals: TxD-, TxD+, RxD+, RxD-, GND, RTS-, RTS+, CTS+, CTS-
RS-485 4-wire data signals: TxD-, TxD+, RxD+, RxD-
RS-485 2-wire data signals: Data-, Data+
Automatic transmit and receive control for 2-wire RS-485 half-duplex mode
Built-in termination and biasing
High speed serial port with the baud rate up to 921.6K bps
Non-standard baudrates supported
LEDs of Power, TxD and RxD for easy port monitoring and diagnostics
Serial port protected with surge protection of 10KV
Self-powered. One switching terminal power adapter of 5V, 2A provided
COM port number assigned can be changed to any COM port number required
Works with USB 1.1 & 2.0 host port
OS Support:
Windows XP, Vista, Windows 7, Windows 8, and Windows 10
Linux and Mac OS 10.X