Our new industrial USB to 8-Port RS-232 Serial Adapter gives your laptop or workstation the ability to communicate between a USB (Universal Serial Bus) port and up to eight RS-232 serial Ports. The USB2-8COM-M USB Octal (8 Port) Serial Adapter is designed to take advantage of your host USB port to expand your native serial COM capabilities.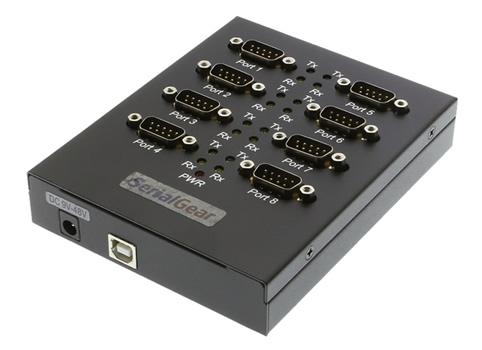 The USB 2.0 to 8-Port RS-232 serial adapter instantly adds eight RS-232 serial communication ports to your system from its industry-grade construction chassis by taking advantage of the USB bus. Plugging the Industrial 8-Port Serial Adapter to the USB port, the adapter is automatically detected and installed with no need for configuration on your part. There are no IRQ & COM port conflicts, since the ports do not require any additional IRQ, DMA, memory as resources on the system.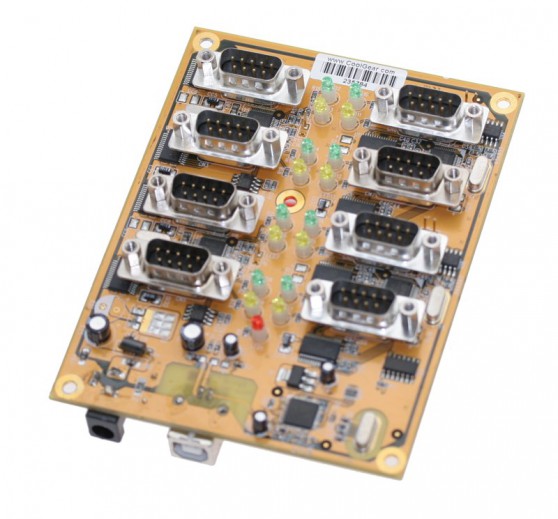 The USB 2.0 Octal Serial Adapter is provided with a switching power adapter. The USB 2.0 Octal Serial Adapter provides instant connectivity with modems, ISDN TAs, PDAs, handheld & pocket PCs, digital cameras, POS, serial printers. It is suitable for remote access, retail and industrial applications, data collection and other applications requiring high speed RS-232 serial communication ports.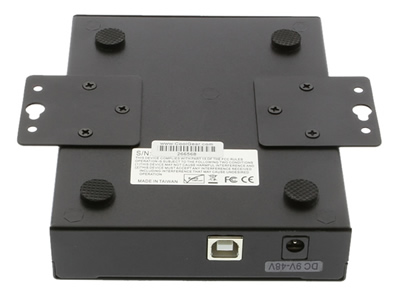 Additional Features:
Adds eight industrial RS-232 serial ports by connecting to a USB port
Installed as standard Windows COM port
SECC metal chassis with DIN rail bracket
Full RS-232 modem control signals and hardware/software flow control
RS-232 data signals: TxD, RxD, RTS, CTS, DSR, DTR, DCD, RI, GND
High speed serial port with the baud rate up to 921.6K bps
128 byte transmit FIFO & 384 byte receive FIFO
Non-standard baudrates supported
LEDs of Power, TxD and RxD for easy port monitoring and diagnostics
Serial port protected with surge protection of 10KV
Self-powered. One switching power adapter of 12V, 1A provided.
Easy plug and play installation and RS-232 device connection
COM port number assigned can be changed to any COM port number required
Works with USB 1.1 & 2.0 host port
OS Support:
Windows Windows 7, Windows 8, Windows 10
Linux and Mac OS 10.X
Package Contents
8 port USB 2.0 to RS232 serial adapter
Din Rail mounting plates and screws
USB A to B cable
Power adapter