Also available from the following online retailers:
This USB 2.0 Video Card graphic adapter provides a unique solution by adding extra displays to a computer without using additional graphics cards in your system. This product has successfully challenged the limitations of current display connectivity to deliver a highly interactive user experience across a USB 2.0 connection. Users can instantly clone or extend a desktop onto another display via VGA D-Sub interface, such as LCD, CRT, projector and plasma displays. With the USB 2.0 Video Card interface plug-n-play and bus power feature, this product brings multi-monitor applications into the mainstream.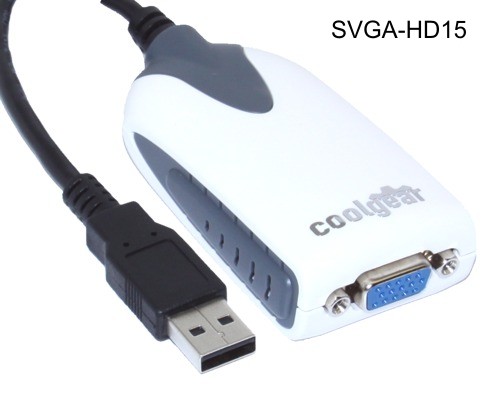 The USB 2.0 Video Card Adapter offers automatic recognition of monitor type, resolution, and features. Also supports desktop display primary, clone and extend mode. Hot-swapping / Plug-n-Play of monitors without reconfiguration. This device has a low power consumption via USB Bus power supply (without Heat Sink).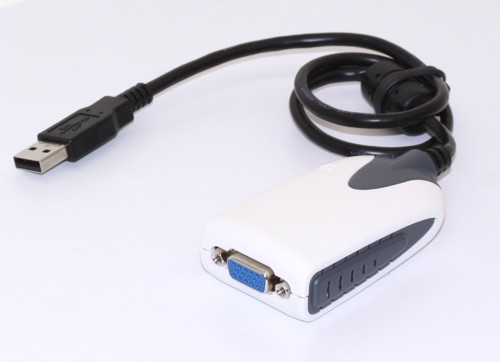 Additional Features & Specifications:
Design for display devices connecting to PC/ laptop
Compliant with USB 2.0 specifications
Supports Display Modes: Primary, Extended , Mirror, Rotation ( 0°, 90°, 180°, 270°)
Resolution up to 1600 X 1200 or 1680 X 1050 bits
USB Plug & Play compatibility
Supports Suspend and Hibernation modes
Supports VGA output compliant
OS Support:
Windows XP/Windows Vista/Windows 7/Windows 8
System Requirements:
Single Attachment:
Available USB 2.0 Hi-speed port
CPU: Intel/ AMD Single Core 1.5 GHz processor or higher processor
RAM: 512 MB memory or higher
2-3 Attachment:
Available USB 2.0 Hi-speed port
CPU: Intel/ AMD Single Core 2.4 GHz processor or higher processor
RAM: 1GB memory or higher
4-6 Attachment:
Available USB 2.0 Hi-speed port
CPU: Intel/ AMD Dual Core 2.0GHz processor or higher processor
RAM: 2GB memory or higher
*Windows Aero Effects are not supported*
Resolutions Supported:
1600×1200 1680 x1050 1440×900
1400×1050 1360×768 1280×1024
1280×960 1280×800 1280×768
1280×720 1152×864 1024×768 800×600
Certifications:
FCC, CE, C-TICK, VCCI, RoHs