The SW-SATA2X4 4 Port SATA III Switch is Bay Mount designed to provide a high performance link between a single SATA 2/3 host port and 4 SATA device ports. It connects the host upstream port to one of the 4 downstream SATA devices (one device at the same time). It is done by simply pressing the push button switch.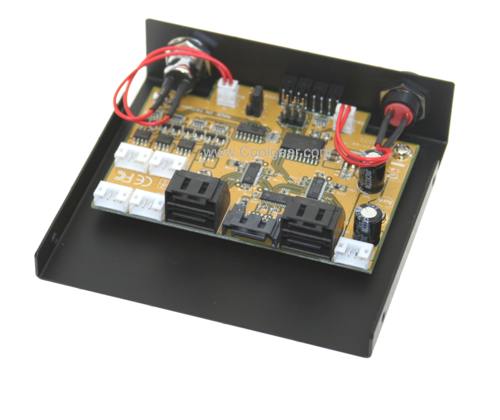 With its Power Switching circuits, the SW-SATA2X4 can switch the devices power according to the settings of the SATA II / III signal switch once bay mounted. The 4 Port SATA Switch only allows the selected device to be powered and cuts off the powers of the other un-selected devices. This reduces the power consumption and makes sure those devices are truly off line to prevent from any accidental erasing of data by virus or application software.
The SW-SATA2X4 4 Port SATA switch provides a key lock mechanism to prevent from any unauthorized changing in drive or device settings. It helps home and school users to manage the devices quickly and easily.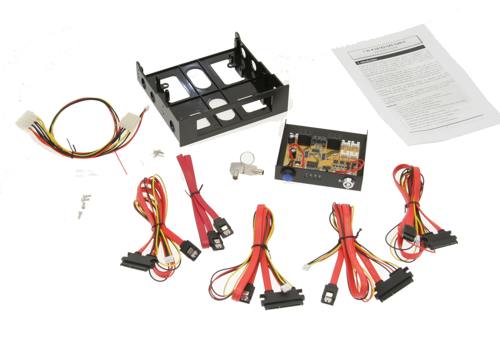 The SW-SATA2X4 is designed for optimum performance, expand ability and security. It is an ideal upgrade solution to support SATA and SATA2 devices for the rapidly changing data to preserve the user's investment in the SATA interface.
Additional Features:
Serial ATA Interface:
1 Upstream to 4 push-button-switchable downstream SATA2 Ports
Save the Settings by the Built-in EEPROM.
Provides a Key lock Switch to Prevent from any Unauthorized Changing the Settings
The Power of the Unselected Device was cut off to put it at the True Off-Line State
Supports Hot-Plug and Hot Swappable
Supports SATA3 (6Gbps) Compliant PI3PCIE3412
Supports Serial ATA devices with up to 1.5Gb/s, 3.0Gb/s, or 6.0GB/s Transfer Rate
Standard 3.5-inch Bay Form Factor, Easy to Install for Most of the PCs
Serial ATA Devices:
Supports any Serial ATA devices: Hard drives, Removable HDD, and more coming devices such as CD-ROM, CD-R, CD-RW, Tape, IOMEGA, LS-120, DVD-ROM
I/O Hardware:
1 Host and 4 Device 7-pin SATA Connectors
1 Input and 4 Output Power Connectors
OS Support:
Windows 98, Me, XP, 2000, 2003, CE, Vista, Windows 7, and Windows 8
Linux and Mac OS 10.X
Depends on the Upstream Host Controller. It is transparent from the Operating Systems.
Form Factor:
3.43"x2.65" (8.71cm x 6.73cm)