Introduction:
The USBG-COM-SI-M USB Single Port RS-232 serial adapter is designed for industrial applications to allow for easy serial port expansion on your system. In connecting the Single Port RS-232 serial adapter to a USB port on your computer or USB hub, it instantly adds an RS-232 serial communication port to your system. This adapter offers protection for your connected serial device with Optical Isolation and Surge Protection circuitry.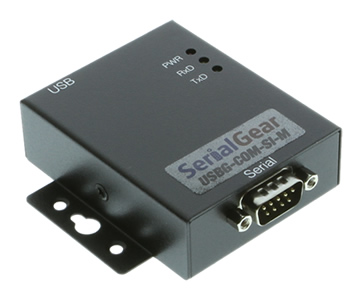 By taking advantage of the system USB bus, the USB to Single Port RS-232 Serial Adapter makes it easier to add serial ports and serial devices to your system with Plug-and-Play utility and hot plug features. Plugging the USB Serial Adapter into the USB port, the adapter is automatically detected and installed. There are no IRQ & COM port conflicts or configuration issues because no additional IRQ, DMA, or memory is used as resources on the system. The adapter is powered by the USB port, and no external power adapter is required.
Features:
Hardware Specifications:
2000V DC optical isolation
25KV ESD surge protection
Industrial metal housing with DIN rail bracket
Full RS-232 modem control signals and hardware/software flow control
Data Signals Supported:
RS-232 data signals: TxD, RxD, RTS, CTS, DSR, DTR, DCD, RI, GND
Baud Rate from 300bps up to 921.6Kbps supported
512 byte transmit FIFO & 512 byte receive FIFO
Transmit(TxD) and Receive(RxD) LEDS on unit for visual reference
Universal Serial Bus(USB) port offers easy plug and Play Operation
Item Dimensions: 2.83(L) x 2.29(W)(3.20in with ears) x .895in(H)
OS Support:
Windows 7, Windows 8, 8.1, and Windows 10
Linux and Mac OS 10.X
Package Contents:
Driver CD
USBG-COM-SI-M
3ft USB A to B Cable
*Surface Mounting screws not included.