2-Port Serial to USB 2.0 Adapter
The CG-232485CBO is a rugged two port RS232/422/485 serial to USB 2.0 adapter supporting high-speed connectivity. It supports the combination of the serial ports signal by use of DIP switch controls giving this serial adapter the versatility to use one or two serial signals simultaneously.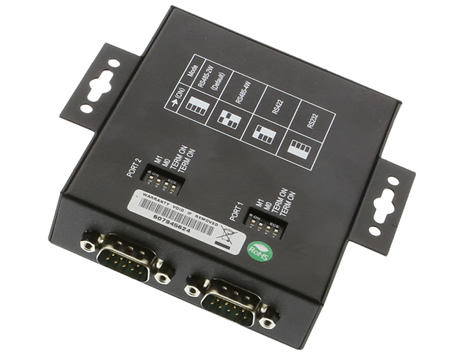 This serial adapter to USB 2.0 combo includes LED status indicators for RX/TX for each serial port and also includes LED signal monitoring for a visual distinction between which type of signal is in use on each port i.e. RS232, RS422, or RS485. The CG-232485CBO also supports screw lock design for both the USB 2.0 Type-B port and the DB9 serial ports for secure connections all around.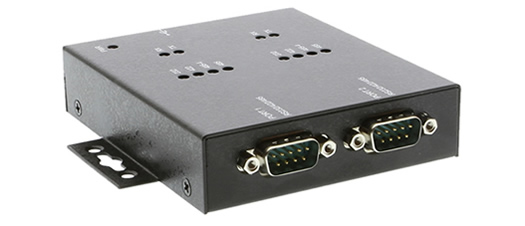 This serial adapter is mountable via its integrated flange on the industrial-grade case and can mount to any flat surface to support its application use. The combo adapter is packaged with a 6ft USB 2.0 Type-A Male to Type-B Male cable that incorporates a screw lock mechanism on both ends
Serial Adapter Combo Features
Provides 2 RS232/422/485 Serial Ports over USB Port
Support Hot-Plug functionality
Provides 2 DSUB-9 Connectors
Supports USB2.0 High Speed (480Mbps) Data Rate
Supports USB Screw Lock Mechanism Enhances Reliability
Baud Rate from 300 bps to 921.6Kbps
Supports 7,8 Data Bits
Odd, Even, Mark, Space, or None parity mode
Supports 1, or 2 Stop Bits
Supports USB Bus Power
Optional Model Supports 2,500Vrms Isolation and 15KV ESD Protection
Supports Windows 10, 8, 7, Vista, 2003, XP, Win2000, Linux, and Mac OSX
Dimensions
101.6mm(L) x 87.299mm(W) x 23.812(H)
112.712mm(L) x 87.299mm(W) x 23.812(H) with mounting flange
Package Contents
CG-232485CBO combo adapter
6ft. USB 2.0 Type-A to Type-B Cable
User Manual (also downloadable from this page)
Drivers Disk
Environmental Information
Operating Temperature 0 to 55 °C (32 to 131 °F)
Operating Humidity 5 to 95% RH
Storage Temperature -20 to 75 °C (-4 to 167 °F)
OS Support:
Windows 10, 8, 7, Vista, 2003, XP, Win2000
Linux and Mac OS 10.X