Also available online from the following online retailers:
SATA and IDE Hard Drive & Optical Drive USB Adapter Kit COMBO (USBG-PSATA) Pro Series Aluminum Shell. Great for retrieving data from failed or obsolete computers. Kit includes universal USB adapter and US/EU AC power supply (EU plug adapter not included). Combo SATA and IDE converter cables with power supply, great for transferring files and a must for any computer store tech bench.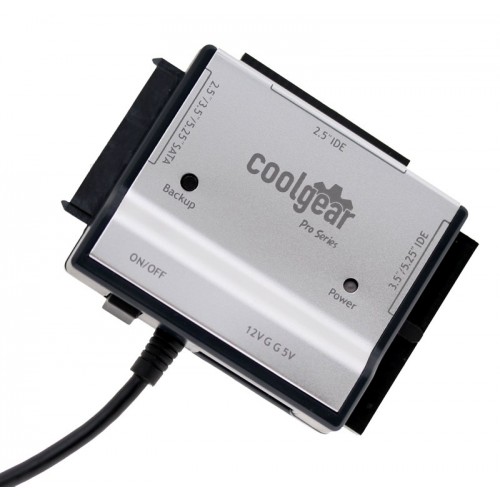 This SATA and IDE drive to USB Adapter Kit includes a true Back-Up feature & Restore Option, unfortunately this Back-up software is not compatible with MAC OS.  The Pro Aluminum Series is a new addition to our SATA/IDE converter series of SATA hard drive adapters. This SATA and IDE hard drive adapter (USBG-PSATA) will enable you to connect to both IDE/ATA drives and popular SATA drives.
Adapters that have the ability to work with one style of hard drive such as SATA and another such as IDE and/or Optical drives in their various sizes are an important tech tool to easily transfer data between hard disk drives during PC migration or upgrading. This (USBG-PSATA) SATA and IDE hard drive or Optical drive adapter Supports the following:
IDE Hard Drives from 20GB up to 2000GB (2TB)
Supports SATA or SATA II Hard Drives from 80GB up to 2,000GB (currently tested up to 2000GB WD and Seagate)
Supports IDE or SATA ATAPI Optical Drives CD/DVD/CD-R/CD-RW/DVD-R/DVD-RW/DVD+R/DVD+RW/CD-ROM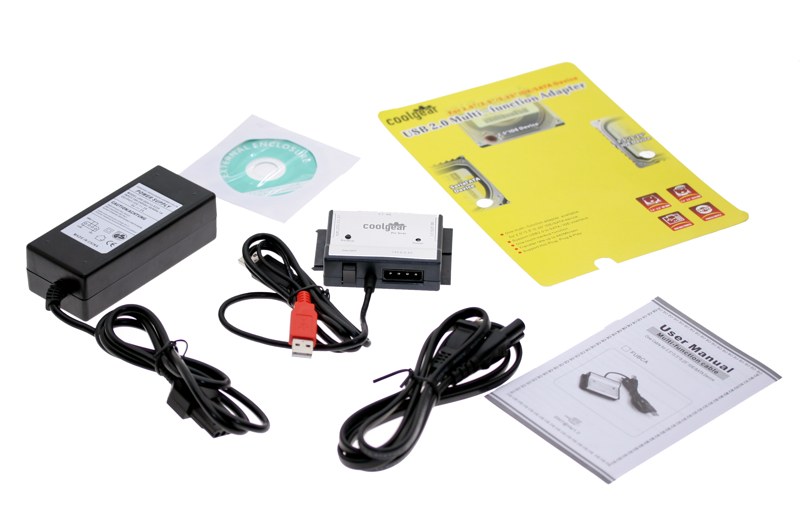 Features:
NEW ULTRA FAST CHIP and UL and FCC Approved HIGH-Output Power Adapter JM20337
IDE and SATA to USB chip with Back-Up software and single Button Back-Up Activation Feature
Convert 2.5″/3.5″ Serial ATA HDD and 5.25″ Serial ATA Devices into USB 2.0 interface
Convert 2.5″/3.5″ IDE HDD and 5.25″ IDE Devices into USB 2.0 interface
Max tranfer speed 480Mb/s
Power adapter for 3.5″/5.25″ devices; Bus-Power for 2.5″ HDD
SUBCP-USB 2.0 To IDE/ Serial ATA Multifunctional External Cable FUBCP. Interface. Serial ATA ; IDE ; USB 2.0. Data Transfer Rate.
Transfer rate available for 480Mb/s. Suitability. 2.5″, 3.5″ ,5.25″ Devices. Hot Plug.
Package Contents:
One 2Amp Power Adapter
One USB 2.0 to IDE+SATA Cable Adapter for 40pin IDE Drives &44 Pin IDE Drives and 22 Pin SATA Power+Signal Connector
User Guide