Introduction:
The CM-41042 4 port USB Serial Adapter allows users to connect multiple serial devices through one USB port on their system. Each serial ports offer data transfer rate up to 920 Kbps for high system performance. The converter also supports wake on line and power management functions. It has dual data buffers for upstream and downstream data flow. Our 4 port USB Serial converter is the ideal solution for various industrial communication.
This 4 port USB Serial Adapter CM-41042 with FTDI chipset provides the scalability to quickly adapt to new USB technologies. Multiple modules can be added to a single USB interface allowing you to add RS-232 connectivity as needed and includes Isolation and Surge Protection.
With the USB Plug-and-Play feature, simply plug the USB connector into and available host port, follow the instructions of Install Wizard, then complete the installation. You don't have to configure Card Slots, I/O address, IRQ jumpers, DMA and others when you are connecting the devices. The System will recognize the device and install the drivers automatically. The CM-41042 4 port USB Serial adapter is an ideal solution for your expanding applications.
Features:
USB Port:
Fully compatible with USB1.0 and USB 1.1; Forward compatible with USB 2.0
Serial Port:
Supports 4 DB9-Male UART Serial ports, the key benefits are:
Data Rate from 75 bps to 921.6Kbps
512-Byte Deep FIFOs for each Port
Supports 7,8 Data Bits
Supports 3-wire RS232 Signals (TXD, RXD, GND)
Odd, Even, Mark, Space, or None parity mode
Supports 1, 1.5 and 2 Stop Bits
Supports 2500Vrms Optical Isolation
Built-in Bi-Directional circuit surge protection
OS Support:
Windows 7, 8, 10, and Windows 11
Linux and Mac OS 10.X
Power Requirements:
Power solely from USB Bus. No external power supply needed.
A +5V DC Jack Input for supports Power over DB9-Male applications.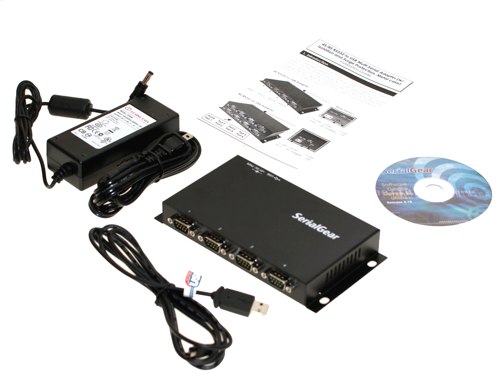 Form Factor:
6.83(L) x 3.83(W) x 1.70(H) (17.35 x 9.72 x 4.32 cm)
Package Contents:
4 port USB Serial Adapter w/ Isolation & Surge
Power supply and power cord
USB A to B cable
*Surface Mounting screws not included.