Introduction:
The USB-COM-M USB 2.0 to Serial RS-232 Adapter is designed with an industrial structure including a Metal case with DIN-Rail Bracket, to make serial port expansion quick and simple within rough environments.
Connecting to a USB port on your host computer or USB hub, the USB 2.0 to Serial Adapter instantly adds one RS-232 serial communication port to your system by taking advantage of the USB bus.  The high-speed Industrial USB 2.0 to Serial Adapter makes it easy and convenient to add an additional RS-232 serial port with DB-9 Male connector and serial device to your system with plug-and-play and hot plug features.
By plugging the USB 2.0 to Serial Adapter to an available host USB port, the adapter is automatically detected and installed, no configuration is necessary with IRQ or COM port conflicts. The USB-COM-M serial adapter does not require any additional IRQ, DMA,  or memory as resources on the system. The Industrial USB to Serial Adapter is self-powered.
This USB 2.0 to Serial Adapter provides instant connectivity with modems, ISDN TAs, PDAs, handheld & pocket PCs, digital cameras, POS, serial printers giving RS-232 modem control signals and hardware/software flow control. It is suitable for remote access, retail and industrial applications, data collection and other applications requiring high speed RS-232 serial communication ports.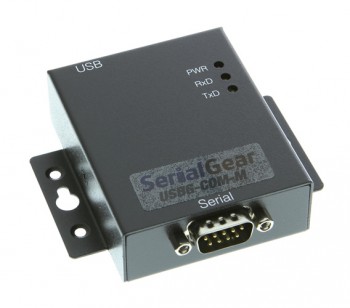 Features:
Adds one industrial RS-232 serial port by connecting to a USB port
Installed as standard Windows COM port
SECC metal chassis with DIN rail bracket
Full RS-232 modem control signals and hardware/software flow control
RS-232 data signals: TxD, RxD, RTS, CTS, DSR, DTR, DCD, RI, GND
High speed serial port with the baud rate up to 921.6K bps
512 byte transmit FIFO & 512 byte receive FIFO
Non-standard baud-rates supported
LED's of Power, TxD and RxD for easy port monitoring and diagnostics
Serial port protected with surge protection of 15KV
Powered by USB port, no external power adapter required
Easy plug and play installation and RS-232 device connection
COM port number assigned can be changed to any COM port number required
Chipset: Utilizes an FTDI CHIPSET FT232BL
Baud Rate: 300 bps up to 921.6k bps (user configurable)
Dimensions: 82mm x 76mm x 23mm (with DIN rail bracket)
Works with USB 1.1 & 2.0 host port
OS Support:
Windows 7, 8, 8.1, 10, and Windows 11
Linux and Mac OS 10.X
Package Contents:
USB 2.0 to high-speed serial adapter
USB A to B cable
Driver Disc
*Surface Mounting screws not included.