The USBG-BAY4 is a 4 port DB-9 RS232 Adapter to USB that is designed for PC, thin client, or server to provide 4 instant DB-9 RS-232 COM port expansions from the Universal Serial Bus (USB) host. This 4 port DB-9 RS232 Adapter provides the flexibility to quickly adapt to new USB technologies.
Multiple modules can be added to a single USB interface allowing you to add 1 to 4 serial RS232 port connections as needed helping your network grow with your requirements. With the USB Plug-and-Play features,  you can simply plug in and follow the instructions of Install Wizard, You're ready to use your serial devices once the installation is complete.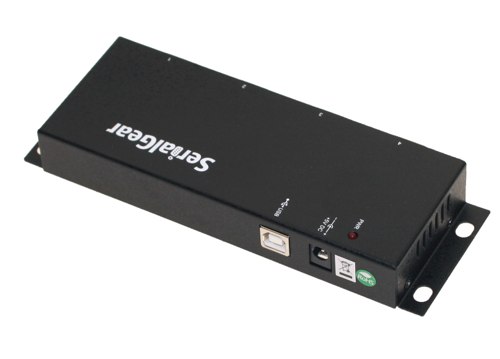 Going through a configuration with the Serial DB-9 RS-232 Adapter for Card Slots, I/O address, IRQ jumpers, DMA and others when you are connecting the devices is not necessary as the system will recognize the device and install the drivers automatically.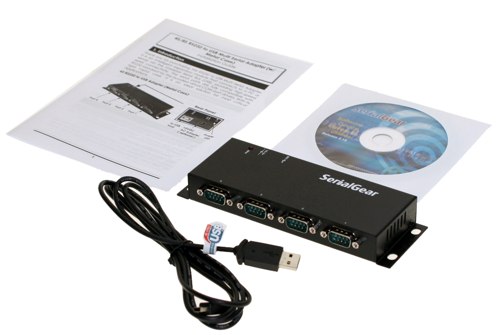 This product includes the following items:
6ft. USB A to B Detachable cable (can be extended up to 15ft)
Windows Driver CD
Easy Instructions Booklet/User Manual
Additional Features:
USB Port Fully compatible with USB1.0 and USB1.1; Forward compatible with USB 2.0
Serial Port Supports 4 DB9-Male UART Serial ports, the key benefits are:
Supports 3-wire RS232 Signals (TXD, RXD, GND)
Rigid Metal Case for Critical Applications
Four Port Serial RS-232 DB-9 Box USB Converter
Baud Rate from 75 bps to 921.6Kbps
512-Byte Deep FIFOs for each Port
Supports 7,8 Data Bits
Odd, Even, Mark, Space, or None parity mode
Supports 1, 1.5 and 2 Stop Bits
Supports USB Bus Power
DC Jack for Optional DC 5V Power Input
OS Support:
Windows XP, Vista, Windows 7, Windows 8, and Windows 10
Linux and Mac OS 10.X
Form Factor:
6.83"(L) x 2.53"(W) x 0.96"(H)
(17.35 x 6.42 x 2.43 cm)
Package Contents
4 port USB to Serial adapter
USB A to B cable
Paper installation manual
Driver Disc