Also available from the following online retailers:
The SS-125SSD USB 2.0 to SATA universal converter will enable you to connect All types of SATA Drives including Micro and Mini Connector types including standard SATA drives. USB converters are a must have device for you to easily transfer data between hard disk drives during PC migration/upgrading, and a must have gadget for any PC service technicians.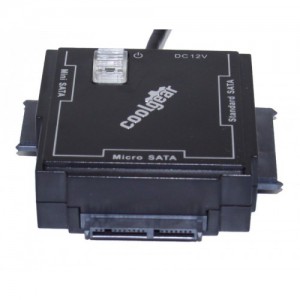 This is a true Hot-plug and Hot-Swap USB 2.0 to SATA adapter with 2Amp power supply. This item makes for a great test bench device. This converter for SATA HDD is universal, connect any SATA I, SATA II, Micro SATA, or (Slim line SATA) MINI SATA Device to your USB 2.0 Port!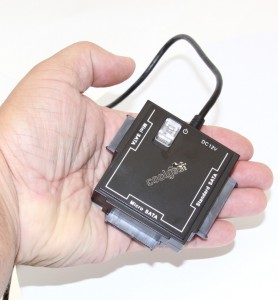 SATA to USB HDD Adapter supports the following hard drives:
SATA Hard Drive & Optical Drive USB Adapter Kit COMBO
Supports All drives from 20GB up to 2TB Capacity SATA I and SATA II
Supports 1.8″ SATA and SATA II Drives with Micro Connector **
Supports 1.8″ SATA and SATA II Drives with Mini Connector **
Supports 2.5″ SATA I Drives
Supports 2.5″ SATA II Drives
Supports 3.5″ SATA I Drives
Supports 3.5″ SATA II Drives
Supports 5.25″ SATA II Optical Drives
SATA Hard Drive or Optical Drive Adapter
Supports SATA or SATA II Hard Drives from 80GB up to 2,000GB (currently tested only up to 1500 GB)
Supports SATA ATAPI Optical Drives CD/DVD/CD-R/CD-RW/DVD-R/DVD-RW/DVD+R/DVD+RW/CD-ROM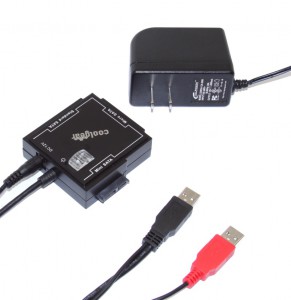 Package Contents (Pictured Above):
One USB 2.0 to SATA Cable Adapter
One 2Amp Power Adapter
User Guide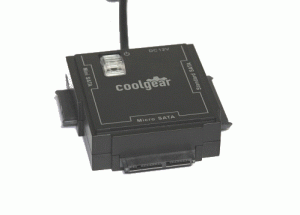 Additional Features:
NEW ULTRA FAST CHIP & Approved HIGH-Output Power Adapter
JM20339 SATA to USB chip for DUAL Drive Usability!
Convert 1.8″/2.5″/3.5″ Serial ATA HDD and 5.25″ Serial ATA Devices into USB2.0 interface
USB 2.0 interface
Max tranfer speed 480Mb/s
Power adapter for 3.5″/5.25″ devices; Bus-Power for 2.5″ HDD
OS Support:
Windows 98, Me, XP, 2000, 2003, CE, Vista, Windows 7, and Windows 8
Linux and Mac OS 10.X